The story of Lithuanians in Springfield began with young Lithuanian men who first sought work in the coal mines, then returned home and bought land, started families and hoped for a better future. Other Lithuanian miners, however, remained transients for years or even decades, as the harsh mining life did not provide the conditions needed for settling and raising families or forced families to constantly be on the move. (Young women often followed the men into exile, working as domestics while the men mined.)
A group of Lithuanian miners finally arrived in Sangamon County around 1900, via Scotland and Pennsylvania, and were joined by many fresh immigrants here. This Lithuanian immigrant community in Sangamon County numbered several thousand at its peak around 1917.
At every stop on their coal mining trail, some Lithuanian immigrants showed their intent to settle by forming Lithuanian Catholic parishes. That pattern held true in Springfield, where several hundred families and individuals came together in 1906 to create their own church.  Excavations for the church building began around 1907, with miners digging the basement at night.  In 1908, they laid the cornerstone of St. Vincent de Paul Lithuanian Catholic Church at Eighth Street and Enos Avenue.
According to the State Journal-Register, St. Vincent de Paul's was dedicated on May 14, 1911, following a parade and pageant. The parade was led by grand marshal George Viszuianokes and a "platoon of police," a marching band from Benld and a squad of Knights of Grand Duke Vytautas (of Lithuania) mounted on horseback.
At least 1,000 Catholic marchers joined in the procession, which began at St. Vincent's and made its way to Sacred Heart Church, then Ss. Peter & Paul Church, at each stop picking up participants from various church societies.
At St. Vincent's, the dedication was headed by Bishop James Ryan of Alton. Rev. Dean Kranezunas of Chicago officiated at a solemn high Mass, assisted by Rev. Lawrence Ryan, "master of ceremonies," and other priests as deacons.
A half a dozen languages were used in the dedication and Mass.
St. Vincent's was a culturally and socially rich center of life, populated with many clubs and societies, for Springfield's original Lithuanian immigrants, their children and grandchildren. Many whose condition never allowed them to learn English well depended on the church community for their spiritual and social needs. The church — and the spirit its members poured into it — helped Springfield Lithuanians transcend the challenges facing miners' families, as well as many other economic and educational disadvantages.
When St. Vincent's pastor for 47 years, the Rev. Stanley O. Yunker (Lith. Junkeris), suffered a stroke and retired and the diocese closed St. Vincent de Paul's on Jan. 1, 1972, a significant number of elderly immigrants were hurt and alienated.  A group of parishioners found another Lithuanian priest to lead the parish and formed a group that fought to keep the church open. However, they were unsuccessful.
Father Yunker established a college scholarship fund, now held in trust by the Foundation for the People of the Catholic Diocese of Springfield, for Lithuanian-American students with family connections to the church.
The church also is remembered with a marker at the southwest corner of Enos Park, Seventh and Enterprise streets.
Contributor: Sandy Baksys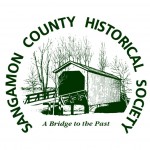 Copyright Lithuanians in Springfield; reprinted with permission.