"A home in Sherwood is an investment in happiness," Vredenburgh Lumber Co. promised when it marketed its new development in the 1960s. It was an effective pitch: In 2022, Sherwood was the largest single-family-home subdivision in Springfield.
Sherwood's 656 homes lie south of Wabash Avenue between Chatham Road and Veterans Parkway. The neighborhood's most distinctive characteristic is that all the street names – Nottingham, Longbow, Little John, Marian, etc. – are related to the English folklore character Robin Hood. The only vehicle access is via three entrances off Wabash (at Robin Hood Lane, Kirkley Lane and Drawbridge Road), each of which is marked by a small castle-ish pillar.
When the first 80 Sherwood lots went on sale in July 1959, the area was still unfamiliar to a lot of people – advertisements had to specify that Wabash Avenue and Chatham Road also was the intersection of "U.S. Routes 36-54 and Illinois 4" or that it was the Moonlight Garden corner.
"At present, 31 homes are under construction, with 13 others ready to start," Vredenburgh publicity said at the opening. "Many of these are now open to inspection and will soon be offered for sale."
Located conveniently near schools and bus transportation, Sherwood affords every advantage of city living in a suburban environment. Its paved streets, concrete sidewalks, ornamental lighting, underground wiring and attractively laid out lanes and courts suggest the quiet beauty it promises as final landscaping develops.

Restrictive covenants for the subdivision prevent the building of dwellings below certain rigid levels of size, character and construction standards. These protective provisions do not, however, prohibit the erection of homes within the reach, budget-wise, of the average family.
The neighborhood's second homeowner was a real estate salesman himself, M.P. Thompson of Kaylor Realty. In a February 1960 promotional story in the Illinois State Journal, Thompson said he liked the idea of suburban-style living within Springfield city limits, and his wife (whose first name wasn't reported) called Sherwood "a very friendly neighborhood."
Two years later, a Vredenburgh advertisement laid out floor plans for three home models (the Patrician, the Puritan and the Chase) in Sherwood. The Patrician was the cheapest at $14,850. That bought a 60-foot lot and a 1,052-square-foot, three-bedroom, one-bath home. The down payment was $450, including closing costs – but  Vredenburgh would waive down payments if the new homeowners did their own painting, floor waxing and cleaning.
None of those prices included garages. To keep prices down, many of Sherwood's other early houses came with carports instead.
Vredenburgh continued adding plats to Sherwood for two decades (including a period in the 1970s when, because of sewer overflows, state environmental officials essentially halted all new construction on Springfield's west side, including in Sherwood).
The lumber company also gave the Springfield Park District 8½ acres of land in the subdivision's southwest corner in 1973. Vredenburgh Park includes a small playground, a baseball/softball diamond and basketball courts and access to the Wabash Trail. While there's no formal neighborhood association, Sherwood has a private Facebook group for residents, and volunteers (the Sherwood Jesters, whose welcome-to-the-neighborhood note provided some of the information for this entry) coordinate activities in the area.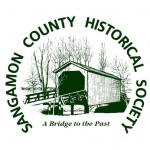 Note: Springfield's Sherwood Avenue is not in the Sherwood subdivision. The street is part of a 1950 development of duplex homes called Poplar Place (originally named Garden Court and later Evergreen Terrace) on the city's southeast side.
Original content copyright Sangamon County Historical Society. You are free to republish this content as long as credit is given to the Society. Learn how to support the Society.