Moonlight Garden flourished as an open-air dance pavilion and then an indoor roller rink on Wabash Avenue for more than 35 years.
Entrepreneur/showman Roy Dexheimer Sr. founded Moonlight Garden as the otherwise nameless "Open Air Dance Pavilion" in June 1927. He adopted the "Moonlight Garden" name sometime later that year, although, over the years, patrons, newspapers and at times Dexheimer himself (in ads) often added an "S" to the name.
Whether known as Moonlight Garden or Moonlight Gardens, and whether a dance spot or a roller rink, the venue at Chatham Road and Wabash Avenue was a top Springfield entertainment attraction until it closed in 1964.
In the early years, Dexheimer booked top dance bands whenever he could. Bandleader Guy Lombardo reportedly said later Moonlight Garden was one of his favorite places to play. Peaches Browning, "the world's most publicized girl" (she created a tabloid scandal when, at age 15, she married, then quickly separated from, 51-year-old Edward "Daddy" Browning), appeared at Moonlight Garden in 1931. Bands from St. Louis and Chicago were regular visitors.
At first, Dexheimer employed what he called the "park plan" for ticket pricing: each dance cost a couple 10 cents. He changed that approach in 1932, charging women 15 cents and men 25 cents for admission and unlimited dancing before 9 p.m. After 9 p.m., the price went up to 25 cents for "ladies" and 40 cents for men. However, since Moonlight Garden was on what was then the far outskirts of Springfield – 3½ miles from downtown – Dexheimer provided free bus service to and from Sixth and Adams streets to the pavilion.
But dancing wasn't all you could find at the Garden. Dexheimer also sponsored marathon walking competitions, rodeos, "motorcycle polo" contests and anything else that would draw patrons and revenue. (There was also a Sinclair service station on the property, a holdover from Dexheimer's earlier career in the gas and oil business.)
And there apparently were other draws too. When an explosion and fire destroyed Moonlight Garden  on Dec. 20, 1935, Dexheimer told the Illinois State Journal he believed unnamed local gamblers started the blaze.
"I've been threatened several times recently by gamblers that unless I let them have the gambling privileges in my place, I would not be allowed to remain in business," he said.

He declared that some weeks ago he stopped a dice game at his night club and also ordered them to take their slot machines out of the club.

"Immediately after the dice game and the machines were taken out, I put in slot machines and a dice game of my own," he added. "It was a short time after this that I began receiving threats. Later, I took out my machines and also the dice games, and announced there would be no gambling of any kind in my place if I had to deal with others."
If the blaze was arson, no one was ever arrested, and Dexheimer quickly rebuilt a more lavish version of Moonlight Garden – 10,000 square feet in all, half of it devoted solely to dancing, plus a cocktail room and two lounges. Dancing went on from 9 p.m. to 1 a.m. nightly to the sounds of Jack Staulcup and His Famous Orchestra ("favorites of the midwest's leading hotels and Big Ten college proms").
The heyday of dancing into the wee hours apparently had passed, however, and Dexheimer converted the Garden to a roller rink in 1938. Once again, he went into it in a big way. In addition to recreational skating, The Moonlight Garden Roller Skating Palace, to give the rink its full name, offered skating lessons (beginners were admitted free on Sunday afternoons) from  in-house skate pros, along with theme nights, skating competitions and exhibitions by roller-skating champions.
Skating on the Garden's 80- by 180-foot floor remained popular through the '40s and '50s and into the 1960s. In 1960, an Illinois State Journal photo spread called Moonlight Garden "(o)ne of the midwest's most modern roller rinks."
Moonlight Garden boasts all of the accessory units associated with indoor skating fun. A plastic skating surface keeps the floor space immaculate. Organist Ward Johnson provides the "mood music" to keep skaters in rhythm with each other. "Live" music is spelled by intermittent recordings. There is also a snack bar and soda fountain, check lockers, skate repair shop and skate rental booth.
State Journal-Register writer Doug Pokorski went into more detail about Moonlight Garden's operations in a 2002 article. In the 1950s, the rink was open to the public from 7:30 to 10:30 p.m. nightly except Mondays, with afternoon matinees on weekends. The Garden could – and often did, Pokorski wrote – accommodate 2,000 skaters at a time.
The regular admission fee was 50 cents, and both skaters and spectators had to follow the rules. Pokorski quoted from a Moonlight Garden brochure:
All rowdyism is barred,and no drinking of alcohol is permitted at any time…

Shorts of all types are banned for spectators and skaters in the rink, except for children five years of age and under. Bermuda shorts are not permitted, but pedal pushers are acceptable when they are of below the knee length, while no overalls or jeans are allowed for skating except on Saturday matinees or Wednesdays, which are listed as novelty hillbilly nights, or for private parties. All skaters must be neatly dressed at all times.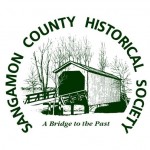 Roy Dexheimer Sr. died in a car-train collision Dec. 6, 1956. Son Roy Jr. kept Moonlight Garden going until changing tastes brought good times at the Garden to their close. The palace Roy Dexheimer rebuilt in 1936 was dismantled in 1967.
Original content copyright Sangamon County Historical Society. You are free to republish this content as long as credit is given to the Society. Learn how to support the Society.