In February 1917, Quaker Oats partnered with Pettijohn's Breakfast Food (Pettijohn's made a wheat bran cereal that, like oatmeal, needed to be cooked) to offer a deal to Springfield households: anyone who sent in trademarks from the two cereals could buy a special aluminum cooker for only $1.
But you had to act quickly. The deal was good for only one week, Quaker/Pettijohn's said in their newspaper ads. "(T)his offer ends with our present supply, and probably forever. Unless aluminum drops 50 per cent, we cannot again offer a Cooker like this for $1."
For readers a century later, however, the most interesting element of the ads probably is the accompanying list (above) of local grocers who had signed on to feature the cooker offer: 171 grocers, virtually every grocery store in town in a period where small stores dotted neighborhoods throughout the city.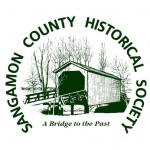 The list probably catches the neighborhood grocery at its highest point in Springfield. Transformation of the local grocery business would begin only a year later, when Moran's Market, 727-29 E. Washington St., would become the city's first self-service grocery.
Original content copyright Sangamon County Historical Society. You are free to republish this content as long as credit is given to the Society. Learn how to support the Society.