Roving "tamale men" became a late-night phenomenon in downtown Springfield around the turn of the 20th century, and a single family kept the tradition going until the 1960s.
The Illinois State Journal reviewed the local tamale industry – "for the business has grown to proportions justifying that term" – in May 1897: "In a city the size of Springfield, where more than a dozen tamale and 'red hot' venders ply their vocation, it is a mystery how one can be found on every corner," the story said. ("Red hots" were a synonym for tamales.)
(T)he ubiquitous tamale man is as welcome as a friend met in a strange land. A sort of affinity seems to exist between him and the rest of humanity. He not only purveys to the insatiate appetite of the "pepper fiend," but being a genial, voluble and whole-souled person, he is always ready to serve his fellowman, be the task anything – towing a bibulous reveller to the bosom of his family or, in an information bureau style, furnishing the time of night, the name of the play on at the theatre, or the direction toward which the inquirer's friends were headed when last seen. …

Chief among the local venders is "Hot Tamale Jack," whose real name is J.W. Eaton. Eaton has been in the tamale business for the last nine years and during that time he has plied his vocation in seventeen states. On the 28th day of last June, a Wabash brakeman invited Jack to unload from a boxcar which had just arrived from the east. Jack unloaded and he has been in Springfield ever since. After peddling tamales for a few days, he sent for his wife to come from Louisville, Ky.

Jack no has three assistants who sell his goods, and his wife and daughter assist the four men in the manufacture. They occupy a cozy and tidy little flat on East Washington street. Jack naturally thinks the tamale business is not a failure. He has not grown proud since fortune smiled on him, but nightly takes his stand at Fifth and Jefferson streets, which is his station. Jack also dispenses chilli,* a popular Mexican dish, composed chiefly of beans, and one that is very popular throughout the south. His assistants are stationed at Seventh and Washington, Fourth and Washington and Sixth and Monroe streets.
(*Note the reporter spelled "chilli" with two Ls; this may have been the first instance of Springfield's idiosyncratic spelling of the word.)
The basic tamale was made from ground beef and peppers rolled into cornmeal dough; the combination was wrapped in a corn shuck and steamed for several hours. On the street, peddlers sold their tamales out of tin cans kept warm by charcoal fires. Although often sold in bundles of four, a tamale typically cost 5 cents.
A street tamale was sanitary as well as tasty, the Journal's reporter claimed.
The dainty and aesthetic young man with the cigarette breath who will poise his nose in the air and refuse to eat tamales because he doesn't "know how the blasted things were made" belies his humbler but thriftier brother when he so attempts to belittle his occupation. Scrupulous cleanliness is observed in the manufacture of the tamale.
Some tamale "cans", like those Hot Tamale Jack operated, could be found in the same spots every night, the story said. Others were "itinerants," setting up wherever business looked good at the time. But there were "unwritten ethics which govern the members of the craft."
An itinerant tamale vender never intrudes on the territory of another. If one establishes a stand at a particular corner, the others keep as securely away from that place as though the man who had chosen the spot for the location of his "plant" were infested with small-pox.
Each tamale stand paid a $10 yearly license fee to the city. Most people ate tamales and plates of chili standing up. But police had to crack down in 1900, when some tamale peddlers began to offer more elaborate amenities, the Journal reported.
All the tamale venders about town were told that they will not be allowed to have tables or chairs on the street corners. Heretofore people have been compelled to walk on the edge of the sidewalks on account of the people eating about the tamale cans. Only the cans will be allowed on the street corners.
The anonymous Journal reporter in 1897 put an unlikely poetic spin on his story.
It is a lonely business, to keep commercial vigil on half-deserted streets, at night, but even then there are compensating features. There are almost nightly experiences of novices who want to taste a tamale "just for fun." The caution, the grimaces, the little screams of surprise of these, especially if they be girls, afford the street merchant no little amusement and opportunity for study of human nature. The patrons of the tamale stores include people of all classes, colors and conditions. The effect of eating them is not like that which follows the taking of narcotics, but there is a sensation from the fiery compound which grows upon one. It is this sensation, perhaps, as much as the palatable character of the tamale which develops the regular customer. …
The 1890s and early 1900s were the heyday of tamale peddlers in Springfield. It wasn't an easy life – based on newspaper stories, tamale cans seem to have been natural targets for eat-and-run patrons, petty thieves and late-night drunks. Hot Tamale Jack Eaton, for some reason, had frequent run-ins with off-duty militia soldiers stationed at Camp Lincoln.
Despite his success here, Eaton left Springfield in late 1899 or early 1900. The Journal reported he apparently was killed by a train in February 1900.
Several days ago a man was killed by a train in Arkansas and the only thing found on his person by which he could be identified was a hot tamale license which was issued in Springfield. … (H)is friends here feel certain that Jack was the unfortunate.
The tamale business remained strong early in the century: In 1902, venders tried to organize a "union" to guarantee that everybody in the local trade charged at least a nickel for a tamale or bowl of chili.
By 1918, however, the tamale "can" seems to have been on its way out. That year, the Illinois State Register profiled Willis Baker, the owner of a chili parlor at Fourth and Monroe streets. Baker got into the business selling tamales from a can, the paper said.
He started selling "eat-em-hots" and "double-headers" (a tamale and chili combination plate – ed.)  in the old days when … it was the custom for chili venders to walk about the streets, crying their goods all hours of day and night. Mr. Baker stationed himself at the corner of Fourth and Monroe streets sixteen years ago and has been doing business on that corner ever since. … Later, he began doing business indoors.
At Baker's "spacious, beautifully furnished" chili parlor, the Register said, "There is both counter and table service and music by two electric piano players."
Street tamales hung on in Springfield into the 1960s, thanks almost exclusively to the De Crastos family. Edward De Crastos (1859-1947) got the family into the business – his obituary said he was "the first chili and tamale vendor in Springfield."
"For 42 years he had made and sold chili and tamales in Springfield, and for years sold them from a cart at Sixth and Monroe streets," the obituary said.
State Journal-Register columnist Jeff Nelson wrote about the De Crastos family in 1975, with help from Ed De Crastos' daughter, Ruth Jones. Her father eventually turned to selling tamales and chili out of a basket mounted on a bicycle, she said, and his oldest son Emory (1884-1969) continued that approach until sometime in the '60s. Another son, Richard (1884-1982), operated a chili/tamale parlor, the Avenue Inn, on South Grand Avenue.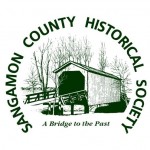 Nelson reported that when Ed De Crastos died in 1947, Illinois State Register editor V.Y. Dallman wrote about De Crastos' "matchless chili" and quoted what Dallman said was De Crastos' "sing-song call."
There is no use in talking
You eat while you're walking;
Ed's chili's a dinner
For saint or for sinner
Who eats becomes stronger
Lives happy and longer!
Original content copyright Sangamon County Historical Society. You are free to republish this content as long as credit is given to the Society. Learn how to support the Society.