Springfield's idiosyncratic two-L spelling of the dish that goes elsewhere by the spelling "chili" was institutionalized when Joe Bockelmann and Thomas McNerney opened The Dew Chilli Parlor in 1909.
Although The Dew apparently was the first restaurant to spell it "chilli," Les Eastep's Springfield Illinois: A Chilli History (2012), on which this entry is partly based, notes that many prepared chili producers used the two-L spelling earlier.
Packaged chili was being sold in Springfield by at least the 1890s, and a number of roving vendors peddled chili and tamales on downtown streets starting about the same time.
The first might have been Ed DeCrastos. He certainly was the longest lasting. What Illinois State Journal columnist Emil Smith called DeCrastos' "baby buggy pushcart" was a familiar sight downtown from 1899 until the 1940s. Originally, DeCrastos sold chili in tin pie pans  in an alley behind Allen's Cigar Store at Sixth and Monroe streets; customers ate standing up.
Chili, in both packaged and chili parlor forms, became a Springfield staple in the 1910s and '20s. By 1923, 11 chili parlors were listed in the Springfield City Directory.
Chili operators and recipes came and went frequently during the 20th century, but several names stick in Springfield memories.
*The Dew Chilli Parlor operated on South 11th Street and downtown for more than 40 years. The restaurant finally moved to an addition constructed on the front of Bockelmann's home at 1216 S. Fifth St. in 1953. The Dew closed in 1995, but new owners reopened the parlor in the same location — and reproducing much the same decor, inside and out — in 2014. (For more on Bockelmann and the Dew, see Dave Bakke's column in the March 28, 2014, State Journal-Register.)

*The  DeFrates family first made Port's Brand Chili (named after Walt "Port" DeFrates), in jars and bricks. Port's Brand was advertised as "complete chilli, except for the beans." Ray DeFrates began canning Port's Brand in 1933; he changed the name to Ray's Chilli in 1936. Ray's Chilli was sold to Kelly Food Products of Decatur in 1985. It went out of production in 1995, when Kelly went bankrupt, but output resumed in Decatur in 1997.

*Joe Rogers opened his The Den Chili Parlor at 1125 South Grand Ave. E. on Dec. 31, 1945. Rogers offered chili at five levels of spiciness. His marketing touch was the superhot Firebrand; any customer who finished a bowl could sign his name a poster on the wall; two bowls got a gold star next to the name.  Rogers' daughter, Marianne, sold The Den in 1985. After the new owners went out of business in 1999, Marianne Rogers — who had opened her own parlor in 1997 –regained ownership of the name.  The Den continued to operate, under different ownership, at 820 S. Ninth St. as of 2013.

*Joe DeFrates, Port's son, opened his own company, Chilli Man, in 1953. He sold the company to Milnot in 1971, and production was moved to Litchfield. DeFrates himself began competing in chili cookoffs in 1969 and won the first of his two International Championship Chili cookoffs in 1973. He died in 2001.

Springfield's Ansar Shrine continues to hold the Joe DeFrates Memorial Regional Chili Cookoff annually.
More information: Springfield Illinois: A Chilli History, compiled by Les Eastep, published by the Sangamon County Historical Society, 2012; available from the society.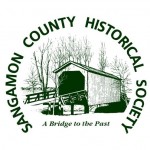 Original content copyright Sangamon County Historical Society. You are free to republish this content as long as credit is given to the Society. Learn how to support the Society.