In the summer of 1847, writer J.H. Buckingham traveled by stagecoach between Peoria and Springfield in the company of "two members of Congress from the state of Illinois, one Whig and one Locofoco." The Whig was Abraham Lincoln.
Here is part of Buckingham's memory of the trip and his impressions of Springfield and Sangamon County.
July 11, 1847
We started in a grumbling humor, but our Whig congressman was determined to be good natured, and to keep all the rest so if he could; he told stories, and badgered his opponent (Rep. Robert Smith of Alton – ed.), who it appeared was an old personal friend, until we all laughed, in spite of the dismal circumstances in which we were placed. …
Towards Springfield the cultivated farms were more numerous, and we passed through miles and miles of tall corn, the bright and beautiful green of which was almost dazzling in the sunlight; some acres of wheat, tall as an ordinary man; and many fields of oats, with some of barley – all of which appeared ready for the sickle.
We were now in the district represented by our Whig Congressman, and he knew, or appeared to know, every body we met, the name of the tenant of every farm-house, and the owner of every plat of ground. Such a shaking of hands – such a how-d'-ye-do – such a greeting of different kinds, as we saw, was never seen before; it seemed as if he knew every thing, and he had a kind word, a smile and a bow for every body on the road, even to the horse and the cattle and the swine. His labor appeared to be so great that we recommended to our Locofoco friend to sit on the other side of the coach and assist in the ceremonies; but he thought that that would be an interference with the vested rights of his friend and opponent, and so he declined, although he was evidently much disposed to play the amiable to several rather pretty girls that we fell in with at one of our stopping places. It seems that as there is honor among thieves, so there is etiquette among Western Congressmen. …
I have spoken somewhere of the cheapness of butter and cheese and eggs and poultry in Northern New-York. On our road to Springfield, we saw a first rate roasting piece of beef – the first cut of the rib – weighing 16 pounds, which was sold to a tavern-keeper for four cents a pound, and that was said to be a good price in this neighborhood. Think of that, ye housekeepers of Boston! Of vegetables we are now in the enjoyment of all the luxuries of the season, such as green peas, cucumbers, string and other beans, and new potatoes. Cherries and strawberries are among the things that were.
We arrived at Springfield early in the evening, after the most fatiguing day's ride that, in all my traveling, I ever experienced. We were all tired and dirty, covered with dust and perspiration, and not in much better humor than we were when we started in the morning. The strangers in Buffalo (N.Y. – ed.) complained of the impositions, the lies and the impudence of certain steamboat captains, but I will put an Illinois stage agent or driver against any thing that ever I saw before, in Europe or America, and bet odds upon him for impudence and imposition.
July 12, 1847
(In Springfield, Buckingham visited the Illinois Statehouse – today's Old State Capitol – where delegates were debating a new state constitution. He wasn't much impressed by the debate or the manners of the debaters.)
As for discipline and etiquette, I cannot say much for them. Every member who spoke rose and put one foot in his chair, and one hand in his breeches pocket, and more than half of the whole sat with their feet on the desks before them, tilting up in their chairs. They looked like sensible men, but they want training, from the President down.
The State-House is at present an unfinished building of stone, and intended to be well-arranged; but the architect has set it too low on the ground, so that it will never be any ornament to the place. It has a cupola built of wood and stands in the centre of a large public square. By and by it will have a portico with several large columns, but the columns are to be laid in blocks like the pillars before St. Paul's Church in Boston and will never present an appearance corresponding to the design of the architect. The interior, even, is not finished, and we ascend to the Representatives' hall, where the Convention assembles, by a flight of temporary stairs. The halls of the two houses will be very pretty when they are finished, but I doubt whether they will not want much remodeling before they will give satisfaction, either to members or to the sovereign people, who wish to listen to the debates of their serants.
Near the State-House is a much handsomer building, which was erected some years ago by the State Bank of Illinois; it has columns, and a porch in front and looks quite classical. The business of the place is done in stores, which are arranged round and in the neighborhood of the square, and it is even now very considerable. …
In the neighborhood of Springfield, and in the city itself, for I believe it is a city, there are many beautiful residences, and one can hardly believe that 15 years ago, the place contained but two houses, one of which was a common drover's tavern – that there was, as lately as 1835, but one mail a week brought here from the South, and but one a fortnight from the North – yet such is the fact.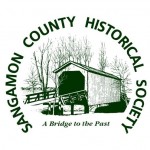 Buckingham's letters recounting his trip were published in his father's newspaper, the Boston Courier. Excerpts were later reprinted in Illinois as Lincoln Knew It: A Boston Reporter's Record of a Trip in 1847, edited by Harry Pratt (1938) and Prairie State: Impressions of Illinois, 1673-1967, By Travelers and Other Observers, edited by Paul Angle (1968).
SangamonLink is a publication of the  Sangamon County Historical Society.  Learn how to support the Society.