Whether or not Elisha Kelley was the first resident of the area that later became Springfield, the "Kelley cabins," occupied by Elisha, John and Henry Kelley and others, were the heart of early Springfield.
Even though their settlement was tiny, nowhere else in the newly created Sangamon County were there enough people to support regular sessions of the county court. As a result, county commissioners Zachariah Peter and William Drennan designated the Kelley cabins as the temporary Sangamon County seat.
Paul Angle described the event in 'Here I Have Lived': A History of Lincoln's Springfield, 1821-1865.
Recording the transaction, they stated that after a full examination of the county's population they had "fixed and designated a certain point in the prairie near John Kelly's field on the water of Spring Creek at a stake marked Z D as the temporary seat of Justice." John Kelly's cabin stood on what is now the northwest corner of Second and Jefferson streets, and the stake was driven close by. The name, Springfield, was doubtless suggested by the adjacent creek, although it is not unlikely that Peter's long residence in Washington county, Kentucky, which also has a Springfield for a county seat, had something to do with its selection."
Confusing matters temporarily, the community was platted in 1823 under the name "Calhoun," honoring South Carolina Sen. John C. Calhoun. However, the name never caught on, and the area was replatted as Springfield in 1833.
Springfield was chosen as Illinois' third capital city during the 1836-37 legislative session, thanks to efforts spearheaded by Abraham Lincoln and eight other central Illinois lawmakers, known as the "Long Nine" because of their collective height.  The city began functioning as the seat of state government in 1839. Construction of the current Statehouse (Springfield's second and Illinois' fifth) began in 1868; the building was finished in 1888. 

Springfield has no comprehensive museum of local history, although the Lincoln Home National Historic Site, the Elijah Iles House (the oldest known residence in Springfield), Edwards Place (the oldest home on its original site) and other museums cover aspects of the city's background. There also are self-guided tours focused on Abraham Lincoln and the Springfield Race Riot of 1908  that contribute to the visitor's knowledge of Springfield in general.
A full community profile is available from the Greater Springfield Chamber of Commerce.
More information
John Carroll Power on the founding of Springfield
*"Here I Have Lived" (link above)
"Sugar Creek: Life on the Illinois Prairie," John Mack Faragher (1986)
"The Sangamon Country," Helen Van Cleave Blankmeyer (1935)
"A Springfield Reader: Historical Views of the Illinois Capital, 1818-1976," edited by James Krohe Jr. (1976)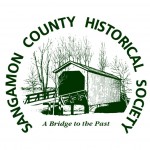 Original content copyright Sangamon County Historical Society. You are free to republish this content as long as credit is given to the Society.