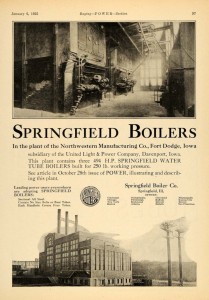 The Springfield Boiler Co., established in 1890, operated for 73 years in the 1900 block of East Capitol Avenue.
The firm produced a variety of steam boilers for power plants, breweries and manufacturers in general.
"The Springfield Boiler Company, since its founding in 1890, has specialized exclusively in the design, fabrication and erection of highly efficient … economical steam generating equipment," according to a brochure published in 1955, when  the company was a division of the John W. Hobbs Co. "For sixty-five years, the company has had an outstanding record in contributing to the advancement of power plant boiler design."
Springfield Boiler's customers included power plants in New York City, Oklahoma City and Fort Lauderdale, Fla., along with Anheuser-Busch, John Deere and Caterpillar, Doug Pokorski wrote in a 2003 State Journal-Register article. In Springfield, its boilers were used by City Water, Light and Power, the state Capitol complex and the St. Nicholas Hotel.
The boiler company was sold to a Chicago investor in 1946, but came back under local control when Hobbs purchased it in 1953. Springfield Boiler became a separate operation, though still controlled by John Hobbs, when the Hobbs firm merged with Stewart Warner in 1955.
With Hobbs approaching retirement, he sold Springfield Boiler to a Milwaukee boiler manufacturer, Cleaver-Brooks, in 1958. J.S. Cleaver said at the time that no changes were planned in Springfield. "We want everything to remain as is," he said, according to an Illinois State Register article in November 1958, when the sale was announced. "We hope to fill that plant with orders."
Nonetheless, Springfield Boiler Co. closed up shop in 1963. The plant was donated to the city of Springfield. It now is the site of Chamberlain Baseball Park, operated by the Springfield Park District.
Source: Sangamon Valley Collection, Lincoln Library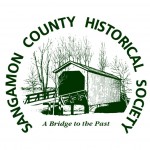 Original content copyright Sangamon County Historical Society. You are free to republish this content as long as credit is given to the Society.