Twenty-five patients and five nurses escaped unharmed when a fire destroyed the top two floors of the David Prince Sanitarium on Aug. 23, 1923. But a Springfield Fire Department aerial truck was also a near-casualty.
The Prince Sanitarium was founded in 1890 at Seventh Street and Capitol Avenue by Dr. A.E. Prince, who named the facility after his father, Jacksonville physician Dr. David Prince. The sanitarium had rooms for up to 75 surgery patients, mainly ambulatory ones who were there for treatment of eye, ear, nose and throat ailments. A number of physicians also had offices in the building.
The fire apparently was caused by defective wiring on the fourth floor. A doctor and a custodian thought they extinguished that blaze without having to call firefighters, "but a short time later, it was discovered that the entire roof was ablaze," the Illinois State Journal reported.
Five nurses, the Misses Jeannette Crookston, head nurse, Rose Burns, Stella Swan, Constance Litchfield and Cora Marlow, who had quarters on the fourth floor, lost all of their personal belongings. The nurses, with the exception of Miss Crookston, who was not in the city, gave valiant service in seeing that all patients were safely out of the building. …

Patients who were more seriously ill were taken care of temporarily in the parlors of the First Presbyterian church across the street from the sanitarium, in Lincoln Library, Seventh street and Capitol avenue, and at the Y.M.C.A. building on South Seventh street. Many of the patients stood in the crowd and watched the blaze.
Blazing debris from the roof fell onto the fourth floor, which also gave way, collapsing onto the third floor. The third and fourth floors were gutted, the Journal story said, but the sanitarium walls remained in "fairly good condition."
A large crowd watched firefighters – six pumpers, plus the city's No. 1 aerial truck – battle the blaze, the newspaper reported.
A feature of the fire, which furnished interest to spectators for over an hour after the blaze had been extinguished, was the efforts to extricate the large aerial truck from a mud hole into which it had sunk. The street, which has been frequently torn up in pavement repair work, was soft and the big machine sunk into the mud up to the hubs. The truck was finally pulled out, much to the disgust of the spectators, who seemed to greatly enjoy the sight.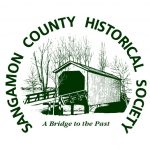 The building's lower floors suffered relatively minor damage, and some patients returned to the Prince Sanitarium within a few weeks. The structure was fully repaired – using fireproof techniques – by the end of the year. The building, by then mainly apartments, was demolished in 1978.
Original content copyright Sangamon County Historical Society. You are free to republish this content as long as credit is given to the Society. Learn how to support the Society.