Fishman Sporting Goods was an institution for 99 years in downtown Springfield.
Founder Louis Fishman emigrated to Springfield in 1887, fleeing anti-Jewish pogroms in his native Russia. He went into business on the smallest of scales, as the Illinois State Journal described it in 1947.
Carrying his stock in a container strapped to his shoulders, Mr. Fishman sold his wares in the streets and market places of the community.

Later, as his business increased, he secured a horse drawn wagon, loaded his merchandise in the vehicle and toured the farm area surrounding Springfield. For a number of years he operated a street stand at the southeast corner of Sixth and Washington streets. …

In 1892, Mr. Fishman opened his first store at 124 North Fifth street.
The store moved several times over its first three decades, finally settling in the 600 block of East Washington Street, where it remained until closing in 1991.
"Louis started out selling fancy lace and linens," his daughter-in-law Fay Fishman told State Journal-Register writer Andy Lindstrom in 1976. "When he opened the store, he put in a line of knives. Later, he brought in guns and mining equipment for the coal miners."
Louis Fishman's early success allowed him to bring his wife Lena and oldest son Myer to join him in Springfield. Eventually, Louis and Lena Fishman raised a family of nine sons and two daughters. When Louis retired in 1917, five of his sons – Myer, Lester, David, Maurice and Will – plus daughter Rose took over the business. Louis Fishman's brother Reuben owned a pawn shop across the street that was looted of guns and ax handles during the 1908 Springfield race riot.
Fishman's was a pawn shop in its early years, and it could be a rough-and-tumble business. Newspaper stories around the turn of the 20th century report robberies at Fishman's, fights with competitors, and lawsuits from disgruntled customers. J.S. "Sam" Fishman, a relative of the Springfield Fishmans, was killed in 1927, when a pistol being handled by a customer went off accidentally.
Inside the store, Fishman's marketing approach was, seemingly, chaos. As Lindstrom described it in 1976:
An Army surplus warehouse … looks orderly compared to the mountains of guns, gym shoes and assorted athletic gear that line the aisles of the Washington Street store, defying gravity and threatening customers below with instant engulfment.

Fishman's bewildering merchandise display has all the flavor of a pawn shop, which it claims not to be, or an impulse buyer's nirvana, which is intentional.

If all the items crammed onto all the shelves, racks, hooks and counters of Fishman's three bulging floors were laid end to end, they would probably stretch from downtown Springfield to founder Louis Fishman's native Russia.

But, if that ever happened, it just wouldn't be the Fishman's that has catered to generations of central Illinois' sporting public….

"If we had it all spread out, we wouldn't get half the traffic," said Fay Fishman.
Fishman's had passed out of family ownership by the time it closed in 1991. The owners then, Jim Griffin and Jim Barnard, said the trend away from downtown shopping, plus the (since reversed) closure of Washington Street between Fifth and Sixth streets had cost the store too much patronage. "We just can't stay open and keep losing," Barnard said at the time.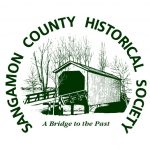 In 2020, the former site of Fishman Sporting Goods was occupied by empty storefronts and a parking lot.
Original content copyright Sangamon County Historical Society. You are free to republish this content as long as credit is given to the Society. Learn how to support the Society.