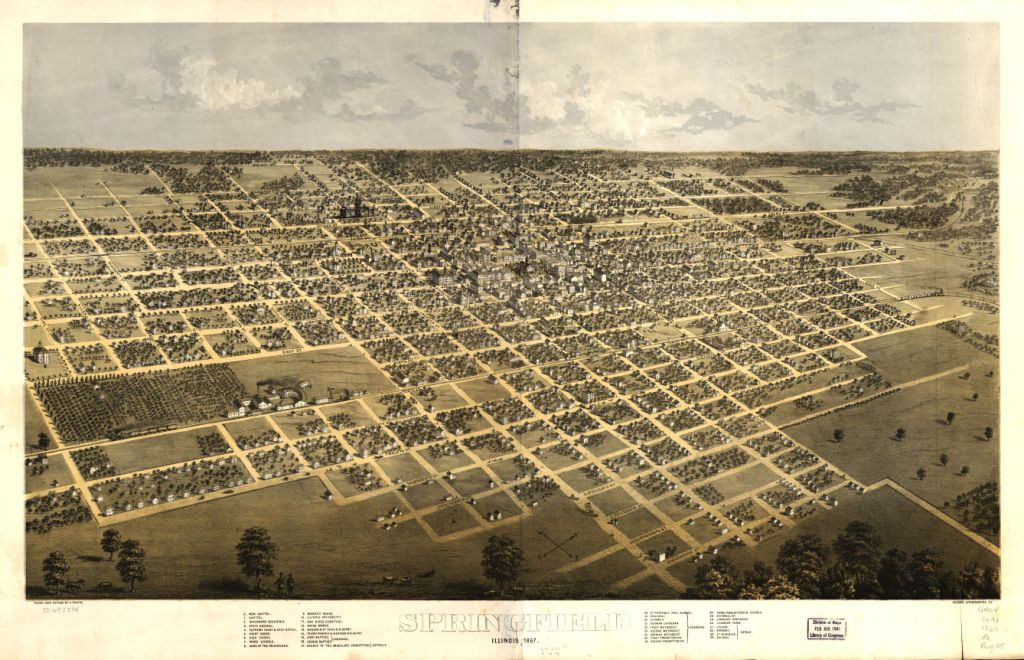 Although not to scale, the 1867 bird's-eye view of Springfield drawn by A. Ruger for the Chicago Lithographing Co. is considered accurate in its placement and depiction of city buildings and streets. Note that the map is oriented with north to the right.
Albert Ruger (1828-99) was an important figure in post-Civil War urban mapmaking, producing more than 250 such lithographs from 1866 into the 1890s.
"His numerous views of midwestern cities provide us with clear and useful images of towns and cities of that region in the first decade after the Civil War," wrote John W. Reps in Views and Viewmakers of Urban America: Lithographs of Towns and Cities in the United States and Canada, Notes on the Artists and Publishers, and a Union Catalog of Their Work, 1825-1925 (1984) "… His views are well drawn and from a sufficiently high perspective to display fully the street patterns and other major elements of the places depicted.
"The result of his and (others') efforts is a magnificent legacy of urban portraits — particularly of the Midwest — affording us glimpses of city and town life that are attractive to regard and rewarding to study."
Map source: Library of Congress; a zoomable version is available from Dickson College. And a full-size paper version of the Ruger map is on display in the Sangamon Valley Collection at Lincoln Library, Seventh Street and Capitol Avenue.
Recommended: Although the reader can expand this map (click on the graphic and then click on the 'plus' symbol), this remains a compressed version. The map is in far better detail at the Library of Congress site.
Legend (reprinted for readability)
A. New Capitol ( Ed.: Although shown on the map, the current Statehouse did not exist in 1867; in fact, ground wasn't broken for construction until 1868. The map image apparently was taken from the construction plans.)
1. Capitol (now the Old Capitol State Historic Site)
2. Governor's Residence
4. Supreme Court & Post Office
5. Court House
6. High School
7. Ward Schools
9. Market House
12. Water Works
13. Chicago & St. Louis R.R. Depot
14. Toledo Wabash & Western R.R. Depot
16. Second Baptist Church
17. Church of Immaculate Conception
19. Episcopal Church
20. Lutheran Church
23. Second Methodist Church
24. German Methodist Church
26. Second Presbyterian Church
27. Third Presbyterian Church
29. Lincoln's Residence
30. Lincoln's Tomb
31. Leland Hotel
32. Chenery Hotel
33. St. Nicholas Hotel
34. Revere Hotel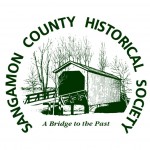 Original content copyright Sangamon County Historical Society. You are free to republish this content as long as credit is given to the Society.