The A. Booth and Son Wagon Factory once dominated the northeast corner of Eighth and Washington Streets in Springfield.
The factory was built by Albert Booth (1813-1873), who moved his family from Menard to Sangamon County around 1840. He first began doing wagon repairs in a small shop outside Springfield.
According to a history of the business published by the Illinois State Register in September 1945, Booth moved into Springfield in 1854 and began manufacturing wagons and carriages.  After the Civil War, that shop became a multi-room fabrication hub at Eighth and Washington.
Albert's third son, Amasa (1835-1924), joined his father in the wagon business and took it over after Albert's death in 1873. Amasa Booth partnered with Alex McCosker (1835-1918), who had married Amasa's sister, Mary Ester, and the operation  turned out hundreds of vehicles annually – "wagons, many carriages and buggies … made from the best of eastern timber and fully warranted," according to the 1945 Register story.
The firm employed about 40 workers, and Booth & McCosker wagons and carriages became popular across the Midwest. The company's best-known model probably was the Booth Spring Wagon.
In 1879, Booth and McCosker bought what was known as the Springer Block – a group of three buildings running north from the northwest corner of Sixth and Monroe streets. The corner building housed the Allen Cigar Store from 1907 until 1988; as of 2020, a district office of U.S. Rep. Darin LaHood, R-Peoria, occupied the ground floor.
Booth and McCosker remodeled the structure (including putting their names on an attic window that looks out on Sixth Street), but they kept their manufacturing facility at Eighth and Washington Streets.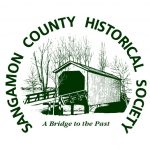 Booth & McCosker sold the wagon business to German immigrants August Brand (a former employee) and Huldreich Groenke in 1886. That company, which lasted until 1902, had the distinction of manufacturing the first fire chief's wagon in Springfield.
Note: The Albert Booth family apparently was not related to that of grocer and property developer Alfred Booth.
Contributor: William Cellini Jr. 
Original content copyright Sangamon County Historical Society. You are free to republish this content as long as credit is given to the Society. Learn how to support the Society.