Springfield police thought they'd wrapped up their case when junk dealer Harry Ross confessed to murdering his partner and trying to burn the man's body.
But a judge said detectives went too far when they interrogated Ross for six days straight, giving him no opportunity to sleep – and when the officers, one wearing a sheet over his head, tried to convince Ross he was being reproached by the ghost of the murdered man.
Ross and John Babcock were roommates as well as partners in the junk business when Babcock disappeared in February 1930. According to police as well as Ross's allegedly coerced confession, the two fell out over a junk car for which they had paid $5. Neither was willing to take the other's $2.50 buyout offer.
They began arguing in their shared room at 714½ E. Madison St. A fight ensued, and Ross supposedly grabbed a pick handle – why they had a pick handle in the room wasn't explained – and beat Babcock to death. Ross then put Babcock's body in a barrel, the story went, poured lye over the body, capped the barrel, and left it at the foot of his bed while he tried to decide how to dispose of it.
"Harry Ross slept in the room with the body and barrel for four days, it was claimed," Illinois State Journal reporter George Jay Barmann wrote in a 1938 recap of the case.
Ross considered throwing the barrel off the Sangamon River bridge on Peoria Road – a traditional disposal site for murder victims in those days – but traffic was too steady, according to the police account of the case.
Instead, police said, Ross went to the Washington Street Mission and hired a transient, John Hornbeck, to drive a truck full of furniture to Hannibal, Mo. The truck, of course, also carried the barrel with Babcock's body in it. Ross followed the truck in another car.
En route, Ross and Hornbeck decided to camp near Florence, Ill., and Ross sent Hornbeck into town for provisions. Barmann's account continued:
Ross took the barrel from the truck while Hornbeck was away from the scene, police declare.

He took the body from the barrel, built a fire, cast the body into the flames (and) burned the barrel, he was reported as saying in the confession.

The pair left the next day, Feb. 10, for Hannibal where … Hornbeck, becoming frightened after Ross had told him the entire story, notified police.
Whatever Ross told Hornbeck, he had a different story when first questioned in Springfield. He claimed Babcock had killed the man whose body was in the barrel – Ross said he didn't know the victim's identity – and then "had gone north," Ross said. Ross decided to burn the unidentified body, he told police, as a favor to Babcock.
If police would only release him, Ross promised, he would go find Babcock and prove his innocence.
Police found obvious holes in that story – there was blood all over the room Babcock and Ross shared, for one thing. But their problem was that, with the technology available at the time, they couldn't prove the half-burned body was that of Babcock. A confession from Ross was vital.
As part of their six-day grilling, Ross said in court, three detectives took him back to his and Babcock's old quarters.
(With Ross) shackled and chained in the dimly lighted room on Madison street where the murder was alleged to have been committed, two detectives in the basement groaned loudly while a third flitted about the room draped in a sheet.

"Harry, why did you murder me?" a voice asked the prisoner, who was shivering from the cold.

"They didn't fool me," Ross said at the trial.
As the nonstop interrogation continued, Ross finally gave in and confessed. When the case came to trial, however, he got lucky, because Judge Charles Briggle appointed two young, aggressive attorneys to represent Ross. The pair, J.H. "Jack" Weiner and James Londrigan, would go on to become two of Sangamon County's best-known criminal defense lawyers.
The Illinois State Journal reported on the opening of the trial:
Using facts given them by the prisoner and referring Judge Briggle to numerous supreme court decisions, Weiner and Londrigan conducted an all-day fight to have the confession ruled out of court. …

The youthful attorneys … proved that Ross was questioned until his resistance was gone and signed the confession so he could be given a chance to sleep. He obtained little sleep for six days, the testimony showed. Judge Briggle ruled the document out on these grounds, substantiating his ruling by numerous supreme court decisions.
Ross left town a couple of days later, telling acquaintances he was going on a search for the living Babcock.
If Ross was innocent of killing Babcock, however, it was a remarkable coincidence that, in 1932, Ross was accused of murder again, this time in Denver, Colo. That victim, Erwin C. Thompson, a tourist from Iowa, apparently was killed at a Denver tourist camp. His body was found in the basement of a home where Ross had lived.
Ross at first evaded Colorado authorities, but he was located three years later in prison in Kentucky, where he had been using the name "Charles Davis." Fingerprints from Springfield confirmed his real identity.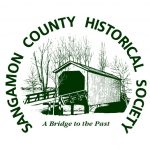 Ross once again went to imaginative limits to fight the new murder charge. A Denver detective told the jury Ross forced a woman at gunpoint to marry him so she couldn't testify against him. In the end, the woman, by then remarried, did testify that Ross had possessed a set of binoculars once owned by Thompson. He traded the binoculars for her wedding ring, she said.
Ross was convicted and sentenced to prison in Colorado.
Original content copyright Sangamon County Historical Society. You are free to republish this content as long as credit is given to the Society.