In the 1920s, the Washington Street Mission operated a rehabilitation center for young prostitutes in what now (2018) is the Chesapeake Seafood House. The facility closed in 1926, with no publicity and no explanation.
Fifty years later, however, the mission's supervisor, a member of the charity's founding family, said a new city administration simply stopped cooperating with the program – probably because police officers were being paid off to ignore prostitution.
The fullest description of Washington Hall, the women's shelter, comes from an oral history interview given in 1973 by Mary Louisa Brown Miller, who was Washington Street Mission superintendent from 1970 to 1980. (She succeeded her husband, Robert O. Miller, was superintendent from 1940 until 1970. From 1917 to 1940, the charity was headed by Mary Louisa Miller's father, Robert T. Brown, a former businessman who was among the mission's founders in 1910.)
Under Robert Brown, the mission bought the former Colby mansion, on Clear Lake Avenue just north of Bergen Park, as the site for its rehab shelter. (The building, constructed in the 1850s by nurseryman John McGredy, later became a series of restaurants, notably the Southern Air and, beginning in the 1980s, Chesapeake Seafood House.)
Brown described the hall's goals to the Illinois State Register when the home opened in November 1922: "The girls who will be given a home there … with be the young girls who have made a serious mistake in life and who will be aided by the Mission in rectifying it."
Its primary purpose, and, indeed, its only purpose will be to aid the young girl – and there are six girls at the Hall now, studying useful arts and getting back to a wholesome existence, most of them who are under seventeen years old. There are many cases of girls from smaller towns who come to Springfield and fall in with bad companions. The girls are not bad girls, but a few missteps and they have plunged into a life from where there is no recall unless they are found and cared for early.

There will be no difficulty in finding enough girls to fill the Hall.
The home housed an average of about two dozen girls at a time in its second-floor dormitories, according to a history on the website of the Washington Street Mission. Downstairs were lounges, a dining room, kitchen and pantry, as well as a work room, "in which the girls will be taught useful arts such as sewing," the Register reported. Brown's wife Mary, with the help of their daughter Mary Louisa and other staff members, ran Washington Hall.
Girls housed at the home were almost all under 21, young enough that rehabilitation was considered possible. Springfield Police Chief Wilbur Morris was an enthusiastic supporter of the Washington Street Mission,  and most of the residents were brought to the hall, voluntarily or not, by city police. According to Maria Louisa Miller:
At this time transportation was beginning to be a little easier; Henry Ford had made the "Tin Lizzie" and it was something that made it easier for people to come into Springfield. These girls were enjoying this luxury of city life; then before you knew it, they were in dire trouble, and had problems that the police knew about. So whenever they would find a lonely girl that needed motherly love, they would call us and we would go and do all we could and bring her here to the Mission.
Aside from persuasion, many residents entered Washington Hall under police orders after being convicted of prostitution. The legality of that procedure was upheld a month after the hall opened.
Attorney John P. Snigg, representing 20-year-old Marie Stanley, "characterized the turning over of the girl to the mission authorities as a step backward toward the dark ages and the system of peonage and declared that the police had exceeded their authority." Stanley had been fined $100 and costs for soliciting and was sent to Washington Hall to work off her fine.
However, Judge Norman Jones agreed with Morris and the Browns that Stanley had been sent to the hall under a city ordinance that provided that prisoners who could not pay their fines could be put to work at the direction of the city prison keeper.
After questioning Stanley, Jones ruled that "there was nothing new in farming out prisoners in such a manner."
The women weren't in jail, but according to Mary Louisa Miller's memoir, the hall had its own methods of keeping its residents at home. One of the trades girls learned at Washington Hall was sewing, and they made their own clothes. But Miller said the designs were deliberate.
We made the dresses as pretty as we could. … They were beginning to wear dresses very short, and these girls were looking for ways to run away. We didn't have a window locked; we didn't have a door locked; there was not a lock on anything. They could go when they wanted to, but the police would bring them right back because they had sentenced them and they had to stay during that duration. But we made the dresses very long and they looked very conspicuous by their dress. They would prefer to have something else. So wherever they were, a policeman knew where there was a dress like that, they belonged where they weren't, so they would come back home very quickly in these dresses that were marked by their length.

The same helped us with the golf course across the street. The men would shoot golf balls and they would come into our yard and then (hall residents) could take them back over there and earn money, but they would whistle at the men and it was an inconvenience. But they were dressed so absolutely conspicuously by the length of those dresses that they weren't anxious to be out in the yard gathering up golf balls to take back to the owners, and we kept them within the bounds of the area where they were supposed to be.
The hall's other main disciplinary method was diet. A girl who skipped devotions or neglected her work  was confined to her room and given meals of soup, Jell-O, crackers and tea, Miller remembered. She missed the regular meals and the nightly get-togethers featuring games and treats.
All the cookies that were baked and the pop-corn that was eaten and the taffy that was pulled and the roast beef for dinner on Sunday – the odors went in and the noise of the fun, but they were not participating, so it relieved them to be up and back and they were anxious to do their share of work.
Washington Hall didn't take in pregnant women, but Washington Street Mission did absorb the cost of caring for residents' health needs in general, Miller said.
Many of them had venereal diseases, and they had to go to the doctor every day. We had to take them; we had to see that the medication was taken as prescribed by the doctor. We met those expenses—not the doctor, that was gratis. But the medicine and any other illness we had to accept, and dental bills too: so it was expensive.
A dozen women, ages 16 to 21, were living at the hall when an Illinois State Journal reporter visited in November 1923. Speaking in the presence of Robert Brown and a matron, Florence Lowell, two girls who were cooking supper claimed to be happy living at the home.
"This man is going to write something about you," Miss Lowell told them. "He'd better write something good," one declared, and the other said, "Tell them that we don't want to leave. My time will be up soon and I want to stay here where I have a home." She was a little Austrian girl (and) had been turned over the Mrs. Brown destitute and desperate.
Time at the hall made a difference to many of the girls, Mary Louisa Miller said in 1973.
Today there are fine women who were girls there, and have raised fine families. They come back occasionally from distances to tell us that they are so thankful that we had Washington Hall, that it meant a new life for them, and meant a life with families and friends. Where they were excluded before, they were a part of it now, and it was all God's hand that delivered them.
The home, however, lasted only until sometime in 1926. Newspapers don't mention the closing, and the Washington Street Mission's own history mentions it only in careful terms.
Mary Louisa Miller, however, was more forthright in her oral history interview.
The reason for its closing was that this chief of police (Morris) who was a fine person, when his office was vacated and when the new chief came in, automatically there were no girls in Springfield who needed any help. They all immediately just dropped off.

We would warn them of a girl we knew who was in a certain location, but they could never find her; and when we found her and brought her to them, they said, "No, she has done nothing worthy of spending time at the home. You are going to be a good girl; now go on back to your parents." So they didn't co-operate. Maybe this shouldn't be told, but somebody was paying them to cover up this house of prostitution and leave them alone – Just go next door and don't find these little girls who have found  refuge in this place."
Washington Street Mission
The Washington Street Mission, founded in the wake of Billy Sunday's six-week-long revival meeting in Springfield in 1909, continued its ministries in 2018.
Much of the credit for its longevity goes to members of the Robert T. Brown family, who dedicated their lives to the Mission for most of its first 80 years.
Robert Brown (1875-1940), who then worked for Vredenburgh Lumber, was among the Mission's organizers and first board members. He became the Mission's part-time superintendent in 1917 and was asked to take on the job full-time in 1919. He remained in that role until his death.
Brown was succeeded by son-in-law Robert O. Miller (1902-70) and then by his oldest daughter, Miller's wife, Mary Louisa Brown Miller (1902-80).
According to Mary Louisa Miller's 1973 interview for the oral history program at the former Sangamon State University, Robert Brown became involved with the Billy Sunday revival because he had sold the Sunday organization the timber to build the "tabernacle" where Sunday preached.
"That created an interest and an obligation, and he felt he – as business etiquette – should be a part of it (the revival)," Miller told interviewer Margaret Klusmeyer. That led to Brown becoming part of a regular businessman's prayer group.
Finally in 1910 – the meeting was in 1909 – Mr. George Coe, who was city commissioner, came to the meeting and his first remarks were that the Lord was surely ashamed of their behavior, that they had prayed diligently and had done nothing about doing anything except enjoying each other, and they were parasites, just absorbing and giving out nothing. He said, "We can't continue to be sponges, we must give out; here is $500, I think Springfield should have a rescue mission." They agreed and this group became the first board, planning for its opening.
The Mission formally opened in January 1910 at 713 E. Washington St., the heart of the Springfield "Levee" vice district. Quickly outgrowing that building, the Mission moved to 812 E. Washington St., occupying one entire building and the second and third floors of the one next door.
In 1918, the mission moved around the corner to 111 S. Eighth St. It remained there until the 1970s, when most of the Levee was condemned for the construction of the Prairie Capital Convention Center and the headquarters of Horace Mann insurance. The mission how is housed at 408 N. Fourth St.
From the beginning, the mission filled a major need in Springfield. The mission history outlines the services it provided in a single month in 1915:
632 men given shelter for a fee
188 men given free shelter
333 baths provided 190 suits fumigated
198 men furnished employment
9 women cared for
54 calls to poor and sick
1,335 meals served
4,000 pieces of clothing distributed
40 persons prayed with
45 New Testament portions of the Bible distributed
14 cases treated in the dispensary
1 man taken to the hospital
3 children taken to the hospital
Miller described one early client family in her interview.
Even today, this long ago, I can think of the first family who were contacted as a family and one of the generations back, now, is a vice president of a bank. We found them in a basement with no floor, just dirt, in a horrible condition. The mission was able to help them to find a place where the children had room enough to live, and where it was warm and where it was comfortable, and not in a damp cold basement without any floor.
As of 2018, the Washington Street Mission's services included: Transition House, for men in recovery; a free clothing shop; a summer children's program; and a daily Neighborhood Coffee Hour, offering coffee and donuts to anyone from 6:30 to 11 a.m. daily.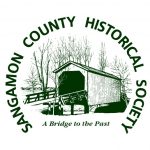 To read more: Both the Washington Street Mission's own history and Mary Louisa Brown Miller's oral history interview can be read on the mission's website. From the home page, click on "About" to find the history. From the history page, click on "Documents" to read Miller's interview.
Hat tip: To Curtis Mann of Lincoln Library's Sangamon Valley Collection, who brought Washington Hall to our attention.
Original content copyright Sangamon County Historical Society. You are free to republish this content as long as credit is given to the Society.