An obelisk bearing the names of 113 Sangamon Countians who died of wounds or disease in World War I was created in the early 2000s by John Kerasotes, a member of Springfield's pioneering movie theater family.
Kerasotes, however, remained anonymous, at his request, for more than 15 years. His name was revealed only when the WWI memorial was moved from its original site at First Street and North Grand Avenue to the veterans memorial section of Oak Ridge Cemetery in September 2019. Kerasotes, age 96, attended rededication ceremonies held at Oak Ridge on Sept. 25, 2019.
John Kerasotes had no family or direct connections to World War I, his son, Denis Kerasotes, told The State Journal-Register's Steven Spearie at the ceremony. However, the younger Kerasotes said, "he may have known other (World War I) veterans. He never really told me that much about it. It was his project. It was kind of his deal.
"He felt it needed to be done. Nobody (had put up a memorial) and he decided to. I know he put a lot of work into it. It was difficult to research and he did spend a lot of time on it."
When the obelisk was originally placed at First and North Grand in 2003, Joe Bartolomucci, then Ward 5 alderman, told the Illinois Times' Job Conger that "a gentleman who wanted to remain anonymous" had contacted Bartolomucci about finding a site for the memorial. The man wanted it in or close to Oak Ridge, Bartolomucci said.
LuAnn Johnson, then the cemetery's director, said, however, that cemetery officials wanted to restrict war memorials only to those recognizing veterans from throughout Illinois. "If we had one county monument, we might get requests for another hundred county monuments," Johnson told Conger. The 2019 move was made possible by adding wording to the base of the obelisk that honors those from all over Illinois who served in WWI.
In 2003, Bartolomucci said, he was working on a plan to erect the memorial on a small part of the Sangamon County parking lot at Eighth and Adams streets when the obelisk suddenly appeared at First and North Grand. "I thought we had a pretty good spot, but apparently the gentleman didn't think so."
Mayor Tim Davlin approved the First and North Grand site, which is maintained by crews from Oak Ridge. However, street parking isn't allowed at the corner, so visitors – the few there were – had to park in lots across the street.
The memorial, about a seven-foot granite obelisk topped by a world globe, also cut from granite, apparently was designed by the donor, Conger wrote. Two small granite benches sat on either side of the obelisk on the corner; they also have been relocated to Oak Ridge.
The front of the memorial says: "World War I/Sangamon County Honor Roll/1917-1919/Dedicated to those who lost their lives while in the service of their country."
Names are inscribed on all four faces of the memorial, but those create another question. The list obviously was chosen from the 1919 Honor Book of Sangamon County, a 1,200-page volume that attempted to recognize everyone from the county who either served in the armed forces or contributed to the war effort on the home front.
The problem is that the Honor Book's "In Memoriam" section identifies 133 Sangamon County war deaths, 20 more than are inscribed on the obelisk.
The book includes short biographies of 110 of those 133, along with photos of most of them. The Honor Book's volunteer researchers apparently were unable to come up with information on 23 other World War I fatalities. They are simply listed by name at the end (page 1078) of the "In Memoriam" section.
All 20 of the names that are in the Honor Book but not on the obelisk come from that list of 23. How the other three – Lester Holt, Thomas McCloud and Peter Taggart (misspelled "Taggert" on the memorial) – came to be included on the obelisk is unknown.
Lone woman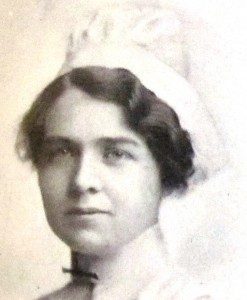 Both the Honor Book and the memorial include the name of Geneva Casstevens (1891-1918), a registered nurse who is considered the only Sangamon County woman to have died as a result of the war. Like some of the men who died, however, Casstevens' connection to Sangamon County was minimal.
Casstevens actually was from Beecher City in Effingham County. She originally enlisted for military service in Boise, Idaho (home of a sister), but she later transferred to Springfield, where she apparently worked briefly as a Red Cross nurse.
Casstevens then joined Unit W, a U.S. Army Medical Corps volunteer group organized and commanded by Springfield physician Dr. Daniel Ottis. Ottis also led local fundraising efforts that paid for much of the unit's expenses.
Unit W was deployed to a hospital near Liverpool, England, from May 1918 to May 1919. Casstevens contracted influenza and died there in October 1918.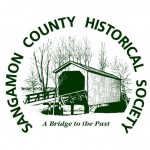 She is buried in Clarksburg, Shelby County. Beecher City American Legion Post 535 was named in Casstevens' honor.
More information: See SangamonLink's earlier entry about the memorial and its former location at First and North Grand.
Original content copyright Sangamon County Historical Society. You are free to republish this content as long as credit is given to the Society.