Eddie Winfred "Doc" Helm, whose striking photographs documented African-American life in Springfield for 50 years, started his career as the man responsible for raising and lowering the flag over the Illinois Statehouse.
Helm (1911-94), who grew up in Mount Vernon, got the nickname "Doc" because one of his first jobs was delivering prescriptions for a local pharmacy, according to Helm's daughter, Beverly Helm Renfro. (Renfro was interviewed in 2010 by Mark DePue for the Abraham Lincoln Presidential Library's oral history program.)
Helm became interested in photography while still a youth in Mount Vernon. But he had no special career in mind and no plans to go to college. So, in 1934, an uncle with political connections got Helm a job with the Illinois secretary of state's office, and Helm moved to Springfield.
The secretary of state is the custodian of the Capitol complex, which led to one of Helm's first duties.
"Yes, he started putting the flag on the top of the Capitol Building, when you had no harnesses or anything to protect you," Renfro said in the interview. "He climbed up there every morning and put it up, and every evening he took it down."
In the early 1940s, Helm moved to a position microfilming documents for the Illinois State Library, another subdivision of the secretary of state's office, Renfro said.
He asked the head librarian at that time … if he could develop some film because they had a photo lab there. And she says, well, I guess on your lunch hour and your break, yeah, if you want to develop some film you can go ahead.

So Dad did.
The Illinois State Museum mounted an exhibit of Helm's photos in 1998. The catalog for the exhibit discusses how Helm saw an opportunity in photography.
By 1936, Doc noticed that Springfield lacked a professional black photographic studio and knew with some work he could fill that niche. He scraped together enough cash to buy his first professional camera, took correspondence courses in photography, and created a darkroom space within his home. In 1943 he opened his commercial studio at 809 E. Washington.
Helm's first photographic subjects were a childhood friend from Mount Vernon, Edgar Bish, and the Helm family – Helm's wife Dorothy (they were married in 1941) and their children, daughter Beverly and son Jimmy. "So there was a long line of guinea pigs so that he could perfect his profession," Renfro told DePue.
Meanwhile, according to the 1998 catalog,
Miss Helene D. Rogers, the head Librarian, took notice of Helm's gift for photography. In February of 1944, she called him into her office to tell him he had been promoted to Official State Photographer. He was now able to pursue full-time his true love of photography. He photographed State Receptions, State Funerals, portraits of politicians, dignitaries and celebrities, and much of his work went into the Illinois Blue Book.
Helm's nickname quickly expanded to "One Shot Doc," because he was able to compose photos in his mind; he often needed just a single exposure to capture the image he wanted. Subjects of his camera over the years included such personalities as Joe Louis, Gene Autry (and his horse) and Muhammad Ali.
Despite his "One Shot Doc" reputation, Helm usually carried two cameras on the job. He used one for his official work. The other, identical camera was his own; after completing his state government duties, Helm often took a second photo with the other camera and added that shot to his personal portfolio. Sometimes, as with Autry and Ali, family members were part of those photos.
When not on duty with the state, Helm had a typical photography business. He documented businesses, weddings, social gatherings, church activities, even dental appointments.
Helm had many white customers, but his work stands out today because of his photos of black life in Springfield, much of which would have gone unrecorded without him.
Night life was a specialty, the museum exhibit catalog said:
He did a booming business photographing World War II soldiers home on leave. He also took many pictures in local night clubs. He would take some pictures, go back to his studio and develop the images, then return moments later to sell them to band members or club clientele. …

In addition, Doc freelanced for The Voice newspaper, which covered Decatur, Bloomington, Springfield, and Peoria. He even provided services for people in automobile accidents and was virtually "on call" around the clock to ensure proper documentation for insurance claims.
Helm wasn't a vocal campaigner for civil rights – "Dad felt that, his philosophy is that, if he did his job well, nobody really noticed the color of his skin. He was Doc Helm, the photographer," his daughter said.  Yet he was often a behind-the-scenes presence – for instance, Helm was one of the founders of Peoples National Bank and the Springfield chapter of the service club Frontiers International, both of which were created as multiracial entities.
Doc and Dorothy Helm also invested in rental real estate, and Doc Helm held a variety of leadership roles in local and state Masonic organizations.
Helm continued to make photographs almost until the end of his life in 1994. The results of his 50 years in photography are an unrivaled record of the lives of Springfield's black residents during the mid-20th century.
Doc and Dorothy Helm (1916-91) are buried in Oak Ridge Cemetery.
As of early 2019, Beverly Helm Renfro, whose own state government career includes several years as administrative assistant to Barack Obama when the future president was an Illinois state senator, was continuing to catalog the photos – 5,000 to 10,000 of them – that make up her father's enduring legacy.
Update: The Eddie Winfred Doc Helm Photograph Collection — 22,000 photos — was digitized and made available to the public via the Illinois Digital Archives in 2022.
Acknowledgments
Beverly Helm Renfro allowed SangamonLink to republish some of her father's photographs and was a great help with this entry in general. Our thanks to her.
Thanks also to the Sangamon Valley Collection at Lincoln Library for help locating and reproducing several of the photos above.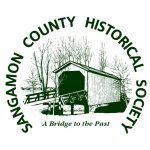 The Illinois State Museum exhibit, Doc's Legacy: Selected works from 50 years of photography by Eddie Winfred "Doc" Helm, was curated by Robert Sill. It was on display from January through March 1998. The six-page exhibit catalog, which includes an excellent short biography of Helm along with many of his photos, can be viewed at the Illinois State Library.
Original content copyright Sangamon County Historical Society. You are free to republish this content as long as credit is given to the Society.