Weaver Manufacturing, founded in Springfield by brothers Ira and Gailard Weaver, was for a time the nation's largest manufacturer of automobile garage equipment, such as jacks, safety test equipment, hydraulic presses and other items.
Ira "I.A." Weaver (1871-1965), was the creative genius of the brothers. He received more than 100 patents for garage equipment and, according to a company history, was known as "the Edison of the automotive industry."
Weaver began tinkering with his father's farm equipment as a youth in Iowa. Springfield researcher Sarah Thomas wrote about the beginnings of his career in an unpublished manuscript.
Weaver's father had an uncle who invented a farm machine called a dropper, which cut and dropped grain in such a way that it could be bound in bundles by hand. This was the first real improvement in harvesting machines.

The stories of "Great Uncle Bert" fascinated young I.A. and encouraged him to … develop farming improvements. The first labor-saving device he invented was the Automatic Stock Waterer, which enabled livestock to pump their own drinking water by use of a treadmill.

Because of the ineptitude of a patent attorney, he did not patent this device. This was his impetus to learn about patent laws.
I.A. came to Springfield as chief designer for the Sattley Manufacturing Co., which made a variety of farm implements.
On his own time, Weaver developed a chuck for high-speed drills, and he and Gailard opened a shop to manufacture the chucks. The Weavers then began to specialize in automobile repair and safety equipment.
The three-wheel jack, the brothers' first product, allowed an auto to be raised so a mechanic could get at the undercarriage.  Among I.A. Weaver's innovations, Thomas found, were:
Towing poles for transporting crippled automobiles.
Auto hoists.
Mechanical tire spreaders.
Mechanical headlight testers.
Valveless bucket pumps to dispense measured amounts of lubricants.
Gauges for testing front wheel turning radius.
Indicators for testing wheel alignment while a car is in motion.
Drive-on-and-stop brake testers.
"His company went from a one-room shop to the largest, most complete factory in the world devoted to the manufacture of automobile service equipment," Thomas wrote about I.A. Weaver.
Weaver Manufacturing, which was incorporated in 1910, eventually built a 130,000-square-foot factory complex that stretched several blocks along Ninth Street south of Ash Street. About 400 people worked for the company in the 1930s.
Gailard "G.E." Weaver (1883-1942), joined his brother in Springfield after studying at the University of Illinois.
As Weaver Manufacturing matured, G.E. Weaver concentrated on promoting automobile safety inspections and on governmental lobbying. Partly because of his contacts, Weaver Manufacturing was the first Springfield company to do national defense work, including a 1940 contract to produce lifts capable of hoisting 2,000-pound bombs.
The Dura Corp. bought Weaver Manufacturing in 1959 and closed the plant, moving operations to Kentucky, in 1973. In 2013, Weaver jacks and test lane equipment were still being produced in Adrian, Mich.
As Elizabeth Rutherford notes in her comment below, the Weaver complex in the 2200 block of South Ninth Street was demolished in 2014. Aside from the Eurosport garage across the street, the main part of what remains is a loading dock.
Hat tip: This entry was significantly expanded in 2022. Thanks to Sarah Thomas for sharing her research with SangamonLink.
More information: Extensive background information on both I.A. and G.E. Weaver is available at a genealogy website devoted to the Barlow, Wheeler and Hayes families compiled in 2000 by Edna Carroll Skoog. The site includes a list of Sangamon County sources on the Weavers.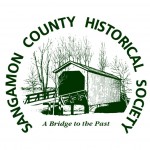 Original content copyright Sangamon County Historical Society. You are free to republish this content as long as credit is given to the Society. Learn how to support the Society.