Weaver Manufacturing, founded in Springfield by brothers Gailard and Ira Weaver, was for a time the nation's largest manufacturer of automobile garage equipment, such as jacks, safety test equipment, hydraulic presses and other items.
Ira "I.A." Weaver (1871-1965), left, with his first wife, Edna, was the creative genius of the brothers. He received more than 100 patents for garage equipment and, according to a company history, was known as "the Edison of the automotive industry." Weaver came to Springfield as chief designer for the Sattley Manufacturing Co., which made farm equipment. On his own time, Weaver developed a chuck for high-speed drills, and he and his brother, Gaillard, opened a shop to manufacture the chucks.
Weaver Manufacturing, which was incorporated in 1910, eventually built a 130,000-square-foot factory complex that stretched several blocks along Ninth Street south of Ash Street. About 400 people worked for the company in the 1930s. Over his career, I.A. Weaver obtained more than 100 patents for garage equipment.
Gailard "G.E." Weaver (1883-1942), joined his brother in Springfield after studying at the University of Illinois.
As Weaver Manufacturing matured, G.E. Weaver concentrated on promoting automobile safety inspections and on governmental lobbying. Partly because of his contacts, Weaver Manufacturing was the first Springfield company to do national defense work, including a 1940 contract to produce lifts capable of hoisting 2,000-pound bombs.
The Dura Corp. bought Weaver Manufacturing in 1959 and closed the plant, moving operations to Kentucky, in 1973. In 2013, Weaver jacks and test lane equipment were still being produced in Adrian, Mich.
As Elizabeth Rutherford notes in her comment below, the Weaver complex in the 2200 block of South Ninth Street was demolished in 2014. Aside from the Eurosport garage across the street, the main part of what remains is a loading dock.
More information: Extensive background information on both I.A. and G.E. Weaver is available at a genealogy website devoted to the Barlow, Wheeler and Hayes families compiled in 2000 by Edna Skoog. The site includes a list of Sangamon County sources on the Weavers.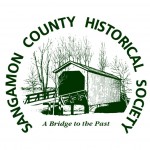 Original content copyright Sangamon County Historical Society. You are free to republish this content as long as credit is given to the Society. Learn how to support the Society.