Springfield's police superintendent narrowly missed being shot to death while on a stakeout related to an extortion attempt aimed at a prominent businesswoman in 1930.
Police superintendent T.P. Sullivan and a special police officer were patrolling near the home of Edna Dye Weaver (1878-1934), president of Capitol Motors Inc., Springfield's Chrysler dealer, about 4 a.m. Sept. 7, 1930. Weaver, who was married to I.A. Weaver, one of the brothers who ran Weaver Manufacturing Co., had received an extortion letter two weeks earlier.
A " large auto" came slowly down the street, according to the Sept. 8 Illinois State Journal, and Sullivan ordered it to stop. However, the driver sped up, while a passenger fired a gun from the car. The shot went through Sullivan's hat, and both the officers and the car's occupants fired at each other as the car escaped.
"The early morning clash followed almost two weeks of intensive search for the writer of a 'death letter' received by Mrs. Weaver," the newspaper said. "In the letter, Mrs. Weaver was ordered to place $3,000 in an old tile in the rear of St. Vincent De Paul's church, Eighth Street and Enos Avenue." A dummy package was put in the tile, but no one came to collect it, the article reported.
In a statement following the gunplay, I.A. Weaver said he doubted that the shooting and letter were related. He suggested the mystery gunmen were "rum runners." He added that he regretted the fact that the existence of the extortion letter had been made public.
The text of the letter was never made public, but the newspaper report said it "is understood that, among other things the letter stated that the garage of the Capitol Motors Inc. at 217-223 South Seventh Street would be bombed if the money was not forthcoming."
Although I.A. Weaver said he was not alarmed by the letter, the family had hired a private guard to protect their home.
Edna Dye Weaver "for many years … has been prominent in local society circles and has been identified with welfare work," the Journal story says. "During the World war she was active in Red Cross activities and is known as a liberal contributor to local charities."
Neither the shooting nor the extortion attempt apparently was ever solved. Edna Dye Weaver died four years later of cancer.
Source: Illinois State Journal, Sept. 8, 1930, available on microfilm at Lincoln Library.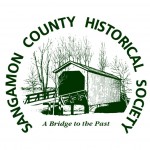 Original content copyright Sangamon County Historical Society. You are free to republish this content as long as credit is given to the Society.