Harry Taylor (1861-1928) was Springfield's first African-American firefighter, but became better known as a Springfield police officer and detective.
Positions on both the police and fire departments were patronage appointments in the late 19th and early 20th centuries. Taylor was nominated to the fire department by Mayor Frank Kramer and was confirmed by the city council on Dec. 3, 1894. The council vote was unanimous, in spite of a letter from the white firemen, the Illinois State Register reported.
The mayor, in making the nomination, stated that he had a petition signed by all the firemen in the city in relation to it, but that it was of a private nature and he would not divulge it. The petition was in fact a protest against the appointment.
In an earlier story, the normally race-baiting Register, Springfield's Democratic Party newspaper, said the nomination of Taylor showed that local African-Americans were getting little in return for their overwhelming support for the GOP.
The republicans have lots of opportunities to appoint colored men to office in this city, but they never yet have shown their friendship for the colored race by appointing a colored man on the fire department. It remained for a democratic administration to set the pace.
Taylor was assigned to running the fire department supply wagon. He was kept on the force when another Democrat, Marion Woodruff, was elected mayor in 1895, but was discharged, along with all the other Democratic firefighters, when Mayor Loren Wheeler, a Republican, took office in May 1897.
Taylor agreed that blacks weren't getting their due in return for voting GOP tickets. When Sangamon County Sheriff Edward Baxter fired his only (and possibly the county's first) black deputy, Lincoln F. Todd, in 1895, Taylor wrote letters to both the Illinois State Journal and the Register. Taylor said he had no quarrel with the firing – Todd had engaged in a gun battle with his wife's paramour, the newspapers said – but that Baxter should have hired another black deputy to replace Todd. The Journal, the Republican paper, printed only the portion directly involving Todd; the Register gleefully published the entire letter, including these statements:
I desire to say that not only has the republican press been guilty of making false pretenses to the colored voters, but some of the leading republicans of this vicinity have been guilty of the same thing, and apparently they have been supported by the republican machinery …

Our people do not pretend to say that our sheriff was not justified in removing Todd; but we do claim that if Baxter was a loyal republican … he would have appointed in Todd's place some honored and reliable colored man. But instead of doing this he informed the committee who waited upon him that he would positively refuse to grant their request. …

During his campaign he visited nearly every colored church in the city and other places where meetings were held in his interest, and in his speeches he undoubtedly assured the colored voters that, should he be elected, they should be represented on his force … The result is that we have been deceived, and not only by Baxter but by other leading republican officials in the county and city.
Newspaper articles leave no doubt that Taylor was sincere in his political stance, but it also served him well in patronage circles. After his four years as a fireman, he was named a deputy by Sheriff Charles Woods, then appointed to the railway mail service by Democratic U.S. Rep. Ben F. Caldwell. He resigned that job to support Harry Devereux's successful 1903 campaign for mayor.
Devereux named Taylor as the city's first black detective, beginning a Springfield police career Taylor would follow – with several interruptions as political fortunes changed – nearly until his death in 1928.
From time to time during the period, African-American officers were not allowed to wear police uniforms; that may have been why Taylor was designated a detective, since they worked in plainclothes. Black officers also were mainly assigned to predominantly African-American areas of town and, with some exceptions, investigated crimes committed by blacks. (African-Americans had served on the Springfield Police Department for at least two decades by the time Taylor was appointed, apparently in both uniformed and non-uniformed roles; Andrew J. Reed, appointed in 1879, may have been Springfield's first black police officer.)
His Illinois State Journal obituary called Taylor "the best known colored member of the department."
"For years he traveled in plainclothes in the district lying between Eighth and Fifteenth streets and Washington and Carpenter streets," the obituary said.
Taylor frequently worked with another black detective, Amos Duncan (1887-1945). Duncan was married to Phoebe Florville, whose father, Abraham Lincoln's friend William "Billy the Barber" Florville, had become prosperous investing in real estate. Duncan operated several bars, a movie theater, an amusement park and other businesses; he also was influential among African-American Republicans. Perhaps because of his other interests, Duncan's city police career totaled only about six years.
No African-Americans served as city police officers from about 1911 until 1915. In reopening the force to blacks in May 1915, city officials said they were expecting an influx of "bad Negroes" from Chicago. Taylor and Duncan were named emergency policemen, and Public Safety Com. Roy Reece said civil service tests would be offered to add several more African-American officers. According to the Register's May 7 story:
"With the clean out of disreputable characters in Chicago by Mayor Thompson a good many undesirables will naturaly (sic) be driven down state and to this city," said Commissioner Reece yesterday. "I want to keep this element going, and, since there will be colored peole among the crowd, I think the addition of a couple of good colored officers is a good thing now."

Yesterday, following the announcement that colored men would be added to the force, the city hall was besieged with negroes seeking a star and club.
In fact, there was no sudden increase in Chicago criminals in Springfield, black or white. More likely, the decision to hire black officers was due to campaign promises made by the recently elected Reece and Mayor Charles Baumann. Civil service rules enacted following the beginning of commission government in Springfield, however, had eliminated the old patronage hiring system for police.
The civil service commission balked at Reece's move, and Taylor and Duncan were laid off two weeks later. But Police Chief Wilbur Morris then seems to have hired them on an ad-hoc basis, assigning the two "special detectives," for instance, to locate a black confidence man and to question an African-American suspect arrested in Decatur for robbing and killing Springfield grocery store owner Henrietta Schmidt.
By that fall, however, Taylor, Duncan and another black man, Albert Burton, had cleared the civil service process and were active police officers.
Taylor and Duncan worked together until Duncan left the force in 1920. They were the key investigators when a fellow officer, Frank Crowley, was shot to death by Arthur Brown, a member of an African-American National Guard unit from Chicago, on June 28, 1916. The guardsmen were in town preparing for deployment to Texas in connection with a border dispute between the U.S. and Mexico.
Other members of the unit identified Brown under questioning by Taylor and Duncan. Brown pleaded guilty to the killing and was sentenced to life in prison.
In addition to political events, Taylor made public appearances to defend police, as in a 1922 speech to black residents that was characterized by the Journal's columnist John Vaughn.
The police, Taylor told his hearers, were not getting the sort of support and encouragement, and co-operation to which they were entitled. He did not deal in generalities. He cited cases. He used names and dates. He arraigned men in his audience – good citizens, who had criticised the police – for their want of sympathy with police efforts to improve conditions. … He recalled incident after incident where, after the police had acted, they had been deserted by those who should have stood at their back.
Taylor had other occupations before, during and after his city jobs. He worked as a coal miner before his fire department appointment and was a turnkey at the Sangamon County Jail for several years, including during the Springfield race riot of 1908. The 1904 city directory also lists Taylor as a "dyer and scourer" for a local laundry, and the Taylors (he and his wife Clara had four daughters) later operated their own home laundry business – "Taylor's Pantatorium and Hand Laundry … Family washing a specialty."
Taylor retired from the police department a few months before his death at age 69. He is buried in Oak Ridge Cemetery.
First woman firefighter
The first woman firefighter in Springfield was Melanie Bryant, who passed her entrance exams in 1991 and was named a probationary firefighter in December 1994. She was 5 feet, 1½ inches tall and weighed 117 pounds when hired.
"I'm not big and brawny, but I've got the strength and the will," Bryant told State Journal-Register reporter Chris Green.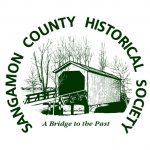 As of February 2017, based on a cursory survey of employee names, a half-dozen women were among the department's 220 firefighters.
Original content copyright Sangamon County Historical Society. You are free to republish this content as long as credit is given to the Society.