The case of a "murdered" man who later turned up alive is one of 19th-century Springfield's best-known legal controversies. That's mainly because Abraham Lincoln wrote about it, but also because of the roles played by circumstantial evidence, a false confession and community hysteria.
There are two versions of how the story ended. One, reported by John Carroll Power, Springfield's most industrious early historian, has the murder "victim" theatrically walking into court to disprove the charges. The truth was less dramatic. And Lincoln got it right.
The accused killers were the three Traylor brothers: Archibald, a carpenter and builder who lived at Third and Adams streets in Springfield; Henry, who lived at Clary's Grove near Petersburg; and William, a resident of Greenbush in Warren County, 100 miles northwest of Springfield. Their supposed victim was Archibald Fisher, a sometime schoolteacher and odd-job worker also from Warren County.
"William Trayler (sic) was somewhat given to telling marvelous stories, and a little inclined to boasting," Power wrote in his 1876 History of the Early Settlers of Sangamon County, Illinois. "With that exception, the three brothers were sober, industrious and retiring men."
In late May 1841, Fisher and William Traylor traveled to Springfield so Fisher could claim land at the federal land office. (They rode in a "Dearborn wagon," a one-horse buggy without springs.) They arrived in Springfield June 1 and, joined by Archibald and Henry Traylor, spent the afternoon "looking about the town," Power wrote.
On their way back to Archibald Traylor's, however, Fisher wandered off into some trees in the northwest part of the city. The Traylors searched for him for several days, with no luck. Henry Traylor even put an ad in the Weekly Illinois State Journal that described Fisher as "35 or 40 years of age, 5 feet 10 inches high, sandy whiskers, black hair – had on a blue broad-cloth coat, brown jeans pantaloons, and a white fur hat about half worn."
"He is at times deranged," the advertisement added, "caused by an injury on the head."
Up to that point, "The mysterious disappearance had … attracted but little attention," Power reports.
However, on June 12, the Springfield postmaster, James Keyes, received a letter from the postmaster in Greenbush. Lincoln described the results in a letter of his own written June 19, 1841, to his close friend Joshua Speed (spelling and punctuation in the original).
Keys received a letter from the Post Master in Warren stating that Wm. had arrived at home, and was telling a verry mysterious and improbable story about the disappearance of Fisher, which induced the community there to suppose that he had been disposed of unfairly. Key's made this letter public, which immediately set the whole town and adjoining country agog; and so it has continued until yesterday. saying William Traylor was boasting that Fisher had died and, before he did so, had given Traylor all his money. The mass of the People commenced a systematic search for the dead body. …"
Meanwhile, men were dispatched to arrest Henry Traylor at Clary's Grove and William Traylor at Greenbush. (Power says Archibald Traylor's reputation in Springfield was such that no one believed he could have been involved in a murder.)
During two days of questioning and threats, Henry Traylor told investigators his brothers killed Fisher, either by hanging him from a tree – Power's version – or, as Lincoln wrote, beating and choking him. Henry said his brothers then enlisted him to help dispose of Fisher's body.
Henry's tale was detailed, and apparently persuasive. According to Lincoln:
He said he guessed the body could be found in Spring Creek between the Beardstown road bridge and Hickoxes mill. Away the People swept like a herd of buffaloes, and cut down Hickoxes mill dam …, to draw the water out of the pond; and then went up and down, and down and up the creek, fishing and raking, and ducking and diving for two days, and after all, no dead body found. In the mean time a sort of scuffling ground had been found in the brush in the angle or point where the road leading into the woods past the brewery, and the one leading in past the brick-yard join. From this scuffle ground, was the sign of something about the size of a man having been dragged to the edge of the thicket, where it joined the track of some small wheeled carriage which was drawn by one horse, as shown by the horse tracks. The carriage track led off towards Spring Creek.
On June 18, the delegation sent to arrest William Traylor arrived with both Traylor and a Dr. Gilmore, also of Warren County, in tow. Gilmore told authorities Fisher was alive and at his house. Fisher had told him, Gilmore said, that "the first he knew after visiting Springfield, he found himself in the vicinity of Peoria," Power wrote. The blackout apparently was caused by Fisher's head injury, and Fisher himself had been in no condition to return to Springfield with him, Gilmore said.
Henry Traylor, however, stuck to his murder story, so many Springfieldians speculated that Gilmore was in cahoots with the Traylors.
"The Doctor was permitted to remain at liberty, but was viewed with strong suspicion," Power wrote.
Authorities proceeded to hold a preliminary examination on the murder charge facing  William Traylor. The defense was led by Stephen T. Logan, aided by Lincoln and Edward D. Baker; the chief prosecutor was Illinois Attorney General Josiah Lamborn.
"Yesterday (friday) William was put upon his examining trial," Lincoln wrote.
"Archibald and Henry were both present. Lamborn prossecuted, and Logan, Baker, and your humble servant, defended. A great many witnesses were introduced and examined."
On the witness stand, Henry Traylor reaffirmed his confession and "bore a rigid cross-examination without faltering or exposure," according to Power's account.
Many other witnesses were examined, giving a combination of testimony that seemed to weave a net-work of circumstances about the prisoners, from which it would appear to any other than a legal mind, to be utterly impossible to extricate them. It was also proven that Archibald Trayler had passed an unusual number of pieces of gold coin.
Power then sets up his dramatic conclusion.
When the prosecution had introduced all their evidence and rested the case, one of the attorneys for the defense, Hon. Stephen T. Logan, arose, and with every eye turned toward him, said that on the part of the defendants, he would introduce a single witness only.

Archibald Fisher, in full life and proper person, was then conducted slowly into the presence of the court. … The effect may be imagined, but can not be described.
Lincoln – who, after all, was there – tells the more prosaic, and accurate, story.
An old man from Warren, called Dr. Gilmore, was then introduced on the part of the defence. He swore that he had known Fisher for several years; that Fisher had resided at his house a long time at each of two different spells; once while he built a barn for him, and once while he was doctored for some chronic disease; that two or three years ago, Fisher had a serious hurt in his head by the bursting of a gun, since which he has been subject to continual bad health, and occasional abberations of mind. He also stated that on last tuesday, being the same day that Maxey arrested William Trailor, he (the Dr) was from home in the early part of the day, and on his return about 11 o'clock, found Fisher at his house in bed, and apparantly verry unwell; that he asked how he had come from Springfield; that Fisher said he had come by Peoria, and also told [of] several other other [sic] places he had been at not in the direction of Peoria, which showed that he, at the time of speaking, did not know where he had been, or that he had been wandering about in a state of derangement. …

Some question being made whether the doctor's story was not a fabrication, several acquaintances of his, among whom was the same Post Master who wrote to Key's as before mentioned, were introduced as sort of compurgators, who all swore, that they knew the doctor [to] be of good character for truth and veracity, and generally of good character in every way. Here the testimony ended, and the Trailors were discharged.
Fisher did return to Springfield four days later – "in bad health," according to the Journal – to reinforce Dr. Gilmore's testimony.
Typically, Lincoln found a humorous side to the outcome.
When the doctor's story was first made public, it was amusing to scan and contemplate the countenances, and hear the remarks of those who had been actively engaged in the search for the dead body. Some looked quizical, some melancholly, and some furiously angry. Porter, who had been very active, swore he always knew the man was not dead, and that he had not stirred an inch to hunt for him; Langford, who had taken the lead in cuting down Hickoxes mill dam, and wanted to hang Hickox for objecting, looked most awfully wo-begone; he seemed the "wictim of hun-requited haffection" as represented in the comic almanic we used to laugh over; and Hart,  the little drayman that hauled Molly (Mary Lincoln – ed.) home once, said it was too damned bad, to have so much trouble, and no hanging after all.
William Traylor died a year after the incident, and Archibald Traylor about two years afterwards – of a broken heart, Power wrote: "His fine, manly countenance was never again lighted up with a smile." It's not clear when Fisher died, although legal writer Paul V. Ford said in a 1951 Chicago Tribune article Fisher "expired shortly after" Archibald Traylor.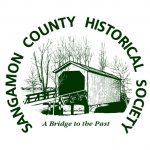 Henry Traylor, whose false confession implicated his brothers, lived until 1868. He is buried in Concord Cemetery, north of Petersburg in Menard County.
Original content copyright Sangamon County Historical Society. You are free to republish this content as long as credit is given to the Society.