Sangamon College was a short-lived venture created in Pleasant Plains by educators John L. Scott and Hugh M. Curry with the help of a dozen local investors.
Most of the financial backers were from the Pleasant Plains area, but they also included Ben F. Caldwell of Chatham, who helped fund a number of schools in rural Sangamon County.
Scott and Curry were given property on the north side of Pleasant Plains, where they had a school building constructed. The terms of the deal, however, required that the property be used for educational purposes for 15 years or it would revert to the investment group. In the end, Sangamon College existed only from September 1898 until June 1905.
Scott and Curry were both elders in the Primitive Baptist Church, but Sangamon College was non-sectarian. It also was open to both men and women. The college's course of study is unclear, as is the degrees it awarded and how long it took to matriculate. School advertisements, however, promised "Special training for teachers."
The last graduating class in 1905 seems to have consisted of a grand total of two women, one of them Scott's own daughter; they may have majored in music.
When the school opened on Sept. 6, 1898, the Illinois State Register called it "a great event in the history of Pleasant Plains and Sangamon County."
Prof. H.M. Curry … explained the course of study and the people were highly flattered with the future prospects for their village.

The classes were organized in the afternoon and now everything is in working order.
At least one graduate claimed to have received a bachelor of science degree from the school. Oramel Blackstone Irwin, the son of J.H. Irwin, one of the college's financial backers, graduated from Springfield High School in 1902 and went on to Sangamon College. There are no records of when he received his diploma there (newspaper records don't report Sangamon College graduates from every year), but when Irwin received his law degree from the University of Michigan in 1909, that school's General Register listed him as having a B.S. degree from Sangamon College.
Irwin (1884-1935) went on to serve nine years as a Sangamon County judge.
Curry (1850-1948) abandoned the school by 1902 (according to findagrave.com, he earlier had been instrumental in the founding of Kentucky's Morehead State  University).
Scott (1865-1920) hung on for three more years, but Sangamon College's closure became inevitable when Scott accepted a job as chair of mathematics at Springfield High School in spring 1905. He later became assistant principal at SHS and principal of Central Junior High School.
Pleasant Plains Township High School bought the old college building in 1916 and built its new school on the site. "The building is of modern construction and the architecture is of the 'Old Sangamon College' type," the Illinois State Register reported in November 1916.
That building was destroyed by a fire in January 1926. The Plains school district responded by constructing a significantly larger, fireproof structure that opened the next year.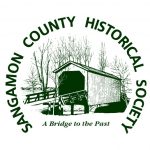 Pleasant Plains High School remains today on the property that once housed Sangamon College.
Hat tip: This entry has been updated with material from the Primitive Baptist Library, Carthage, Ill. Our thanks to Elder Robert Webb, library director.
Original content copyright Sangamon County Historical Society. You are free to republish this content as long as credit is given to the Society.