A rash of streetcar stickups culminated in 1922 with the shootings, one fatal, of two car operators.
A.D. Mackie, general manager of the Springfield Consolidated Railway Co., responded to the first shooting by offering a reward for apprehension of the robbers and by hiring dozens of World War I veterans, armed with pistols and shotguns, to guard the streetcars.
"It is an easy matter for us to replace the small amount of money which has been taken from the operators of the cars, but when men are shot while at their posts of duty it is time for drastic action," Mackie told the Illinois State Journal.
Mackie's actions followed the shooting on Feb. 17, 1922, of motorman Melvin Walker at Illinois and Washington streets. One of the robbers jammed a gun in Walker's back. Walker asked the man not to push so hard. As he did, according to the robbers' later confession, Walker "leaned against the gun and somehow it went off."
Walker, shot in the liver, was seriously injured, but recovered. The robbers, Carl Zubr, 20, and his accomplice, Demeter Yovensku, 22, were arrested two days later. Both said the other was holding the gun when Heter was shot.
In what was speedy justice even for the time, Zubr and Yovensku pleaded guilty less than a week after their arrests to armed robbery with a gun; they were shipped to the state penitentiary at Chester two weeks after the crime.
The Washington Street robbery was the second stickup of the day Feb. 17. Shortly before, a lone gunman had held up a streetcar near Illini Country Club. The two robberies brought the number of streetcar holdups to 12 since the previous May 31, the Journal reported.
The day after the two robberies, Mackie hired 44 guards and had them sworn in as special deputy sheriffs. Most were stationed on streetcars, but "others, armed with sawed-off shotguns, patroled the streets at various strategic points on the look-out for suspicious strangers,"the Illinois State Register reported.
On Nov. 13, 1922, however, two 17-year-olds, William Cherry and William Sturgis,  pulled guns on motorman William Heter, who was operating an otherwise empty streetcar at Eighth and Spruce streets. They took $12.30 and a streetcar token off Heter. Cherry and Sturgis later told police what happened next, according to the Journal's account;
Sturgis then jumped off the car and as he passed in front of Cherry, Heter appeared on the steps with a revolver in his hand and called "hands up." Sturgis ran while Cherry stepped behind a tree on the lawn and fired two shots, both of which took effect and which resulted in Heter's death. …
Cherry and Sturgis both pleaded guilty to murder. Cherry was sentenced to life in prison; Sturgis received a 42-year prison term.
City streetcars got a three-month break from stickups following Heter's death, but robberies resumed in February 1923, and the cars continued to be robbery targets for years afterwards.
The last streetcar robbery in Springfield took place on Oct. 30, 1935. The 19-year-old robber, George Stoll of St. Louis, who said he had a pistol in his pocket, took $6 and some tokens from the motorman. Stoll, who was arrested carrying the motorman's money changer, told police he need money for a place to sleep.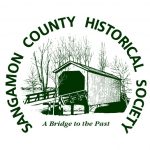 The final Springfield streetcar ran on Jan. 2, 1938.
Original content copyright Sangamon County Historical Society. You are free to republish this content as long as credit is given to the Society.