More than 4,000 people viewed Springfield's first all-steel Lustron home when it opened for public inspection on June 26, 1949. The demonstration home at 2255 S. College St. was the first of five that eventually were built in Springfield and Southern View; another was constructed in Pleasant Plains.
Lustron's founder, Carl Strandsund, had visions of prefabricated steel homes solving the United States' post-World War II housing shortage, and he was persuasive enough that the federal government loaned the company $37 million in 1947. However, the Lustron Corp. paid back only $1 million of that before going bankrupt in 1950.
Both the exteriors and interiors of Lustron homes are made of steel coated with porcelain enamel. They were designed with efficiency and convenience, as understood in the late 1940s, in mind. The homes originally included a variety of built-in cabinets, cupboards and closets, kitchen appliances (including a combination dishwasher and clothes washing machine), and a utility closet that also hid the furnace and water heater.
Local builders erected the homes using the prefab materials. Springfield's Lustrons were marketed by Midland Homes Inc. of Decatur, which touted the homes' advantages in advertisements, and newspaper stories that might as well have been ads, in the days leading up to the open house. Here are excerpts from an Illinois State Journal story the day the home was opened to view.
The new ranch style dwelling (has) exterior walls of gray enameled steel, large picture windows and numerous built-in features …

"Sometimes referred to as 'America's first truly low cost mass produced home,' the Lustron house is built in a factory by the same mass production, unit assembly and precision methods that have made the motor car the greatest industrial achievement and economic benefit of the century," Carl G. Stransund, president of the Lustron Corp., has declared. …

"It will bring you and your family what we call a new standard for living – a home that is easier to live in, easier to keep clean – a home of cheerful convenience and permanence beyond anything previously known in dwelling construction."
The Lustron demonstration home on College Street was badly damaged by the twin tornadoes of April 2006 and was demolished several years later. Sangamon County's other five Lustrons, however, were still occupied as of 2017.
An owner's account
Lustron owners tend to be enthusiastic about their homes, and sometimes that enthusiasm runs in families. Two of Springfield's Lustrons are owned by a father and son, John Weinhoeft of 2424 S. Pasfield St., and Bryan Weinhoeft of 2327 S. Pasfield; both also are experts on Lustron construction and history.
Here is Bryan Weinhoeft's discussion of the allure of Lustron homes.
"I moved into Springfield from the small town of Tovey. My parents looked at many different houses, and I think almost bought one, until they drove past the Lustron at 2424 S. Pasfield St. They ended up buying the Lustron because of how it looked and, I think, the many built-ins.

"I grew up in a Lustron until 1993, when we moved into another house, a brick ranch home. My parents kept their Lustron and used it as a rental. Around 2012 or 2013, they moved back into their Lustron.

"My family – my wife and two boys – moved around after our marriage in 2008. When we decided to buy our first home in 2016, we found that the Lustron at 2327 S. Pasfield St. was on the market. We went on a walk-through tour of the house.
"From growing up down the street, I had visited, and been in, this house through the years, so I basically grew up in this house as well. I can recall sitting on the porch with a sweet lady, Betty Hudnut, who owned the house. She kept the house in great shape

"As we walked through, we found features we loved – some that my parents' Lustron didn't have, and vice-versa. We fell in love with the house, and our offer was accepted.

"This house is a real nice Lustron compared to a lot that I've seen. However, its features aren't as original as some others. Our house has an updated kitchen, a jet-tub sauna, and a new garage because the 2006 tornado damaged the original one. (The tornado also ripped two panels off the house near the electric lines, but they were replaced and painted. The person who fixed it did a great job.)

"My parents' Lustron also was in the path of the 2006 tornado, but it suffered only a little light damage, mostly to the awnings. Sadly, some of the awnings scraped the house. During the storm, the renter at the time took cover in the bathroom. When he opened the bathroom window to check, he watched water being sucked straight up from the toilet and out the window. The renter was fine, no injuries.

"The College Street Lustron apparently took a direct hit. The tornado ripped up the roof and destroyed the bedroom end of the house. The renters were inside at the time. I don't believe they were injured either.

"Our Lustron has tons of built-in features, such as a china pass-through (a lot of pass-throughs have been removed to make an open floor plan between the kitchen and dining room), a bookcase in the living room (some Lustron bookcases have mirrors, although ours doesn't), and a wall-length vanity with a mirror in the master bedroom. The bathroom has built-in toilet paper holder, cup holders, and a soap holder, all recessed into the panels.

"I believe that what people like about these houses are the built-ins and the easy upkeep. Lustrons came in many color combinations. Available house and trim colors were, respectively: blue/yellow; blue/white; yellow/white; gray/white; silver/white; tan/white; and green/white.
"A few also were built in pink/white, but that might have been the owners' choice, not a Lustron standard combination.
"The Quantico, Va., U.S. Marine Corps base once had more Lustrons than any other single location. The Marine Corps. Lustrons were a mix of all colors. Some had matching garages. There were six standard Lustron models. Most had two bedrooms, though some were three bedrooms. I've been inside many different models with different features.

"The longest and largest Lustron I've ever been in was a three-bedroom Westchester Deluxe M03 that featured all Lustron parts. It featured a large two-car garage, a breezeway and a basement, and the house itself was built longer than factory plans.
"In another community, an owner took two three-bedroom M03s and built them together with an indoor pool, I believe, between the two houses. Sadly, the home eventually was scrapped, as a lot of other ones have been.

"Because the homes were more expensive than average when new, they tended to be built in neighborhoods that were upscale at the time. Today, in areas where the neighborhoods are still desirable, many Lustron homes have become tear-down targets due to their small size.

"People either love or hate Lustron homes; there's no middle ground. I personally love them, and our boys also enjoy sharing information about our house."
Springfield Lustrons
Each Lustron home should have a serial number tag. Listed below (in order of assembly) are the Springfield Lustron serial numbers.
2255 S. College St. This was the first built in Springfield, which would been early 1949. It was gray with white trim and may have originally had a green roof. Serial number 00528. (House suffered major damage in 2006 tornadoes and has been demolished.)
3141 S. Second St., Southern View. Serial number not available.
2327 S. Pasfield St. Originally identical to the College Street house. The awnings were the same on both houses. Serial number 01726. Now owned by Bryan Weinhoeft.
2424 S. Pasfield St. Serial number 02159. Now owned by Jon and Kerry Weinhoeft.
2517 S. State St. This was Springfield's last Lustron, constructed near the end of the Lustron Corp. in December 1949 and January 1950. Many features have been added to this house. Serial number 02160.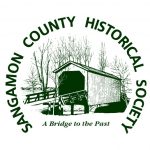 Hat tip: Thanks to Bryan and John Weinhoeft for opening their houses to SangamonLink and for sharing their knowledge and affection for these unique homes.
Original content copyright Sangamon County Historical Society. You are free to republish this content as long as credit is given to the Society.