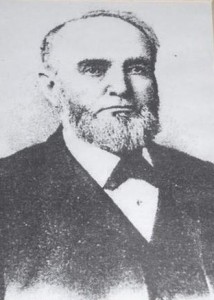 Erastus Wright (1779-1870) was a teacher, businessman, public official and farmer in a varied career spent mostly in central Illinois. He also was an early Springfield abolitionist and was one of Abraham Lincoln's pallbearers.
Wright was born in Massachusetts and traveled with his brother Charles to Springfield in late 1821, buying land in the city in 1823. In a handwritten note on the flyleaf of a New Testament, Wright claimed, "I built the first frame house in what is now the city of Springfield."
By 1830 he was well-established in town. Wright was among about 100 citizens who covered a $16,667.67 loan to the state of Illinois to defray the cost of moving the state capital from Vandalia to Springfield. The following year, Wright was appointed Springfield assessor and collector. He also became a merchant, farmer, and land speculator.
In 1826, Wright described Springfield in a letter to his brother (as reported by Curtis Mann in the January 2001 edition of Historico, the Sangamon County Historical Society newsletter).  "This little Town continues to improve: 4 dry good stores, 3 taverns, 3 groceries a court house, and Jail, a Distillery, Tannery, 2 mills and a printing office expected soon."
In 1837 he was named president of the Sangamon County Society for Promotion of Education and held the office of county school commissioner for 10 years. In that post, he supervised the disbursement of proceeds from the sale of government land for local schools. Wright also was, with 60 other Sangamon County residents, a charter member of the Old Settlers Society, founded in 1859.
Wright was an outspoken opponent of the institution of slavery in a town in which abolitionism was considered by many a dangerous, if not treasonous, doctrine. The Illinois State Journal once wrote of Wright, "He has enough of the elements of a disunionist to constitute one entire abolition convention."
"Erastus Wright was Springfield's quintessential New Englander and abolitionist," wrote local historian Richard Hart. Wright signed Elijah Lovejoy's 1837 call for an anti-slavery convention at Upper Alton, Illinois, and was was one of five Sangamon County delegates to the 1839 Illinois Anti-Slavery Society annual meeting. Wright was a friend of Zebina Eastman, the publisher of the Western Citizen, a Chicago-based abolitionist newspaper. His home at Wright's Grove, near Walnut and Jefferson streets, was a station on the Springfield underground railroad.
In 1830, Wright obtained an elk that had been partly trained to work in harness, although, he said "he was rough to ride." Wright often used the beast to haul his wagon into town. One day, Wright made the mistake of hitching the elk to the grist wheel at the Kirkpatrick corn mill. The elk broke harness and raced off across the countryside toward his pen. When he finally caught and calmed his pet, Wright purportedly said, "Bless my soul! That beast is a born abolitionist — he certainly has no use for slavery."
In November of 1870, Wright was struck by a railroad train after stumbling near the Chicago & Alton Railroad Station in downtown Springfield. He died instantly.
This entry has been edited to correct the month when Wright died. 
Contributor: James Krohe Jr.
More information
History of Early Settlers in Sangamon County, Illinois by John Carroll Power. Edwin Wilson & Co., 1876
Vignettes from Sangamon County Historical Society's Walks through Oak Ridge Cemetery 1996-2004 by Janice Petterchak and Curtis Mann. Program Papers of the Sangamon County Historical Society, 2004 (Lincoln Library Sangamon Valley Collection)
Lincoln's Springfield: The Underground Railroad by Richard E. Hart. Spring Creek Series, Sangamon County Historical Society, 2006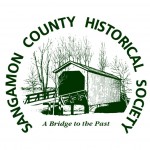 Original content copyright Sangamon County Historical Society. You are free to republish this content as long as credit is given to the Society. Learn how to support the Society.