Springfield's Hicklin family provided two of Sangamon County's earliest successful black politicians, as well as leadership in the local civil rights and African-American history movements.
Hezkiah Hicklin (1835-1904) was the first black person in the county to hold public office, serving on the Sangamon County Board of Supervisors. Newspaper records are incomplete, but Hicklin was casting votes as an assistant supervisor from Springfield's First Ward as of Aug. 28, 1874. It's not clear when he took or left office, or even whether he was elected or appointed to the board.
The position of assistant supervisor may have been a political trade-off. Black Republicans had supported Hicklin as a candidate for First Ward alderman in 1873. In a party caucus, however, he declined to run and supported a white candidate, J.D. Roper. The Journal, the Republican paper, reported the proceedings in neutral  fashion. However, the Illinois State Register, the Democratic newspaper, had a different take on the GOP meeting.
CHEATED. – As we stated would be the case, the negroes were cheated by the First ward radicals at the primary last night. Mr. Hicklin, the colored candidate for alderman, was thrown over, and J.D. Roper nominated instead. It was made to appear, of course, that this was done with the consent of Hicklin. There never was any intention on the part of the whites to support him or any of them, and this they will come to understand some day. The negroes are excellent hewers of wood and drawers of water in the radical party, but that is all; when any position is to be filled, they must give way to some fine-haired, white pink of radicalism. Bend your neck to the yoke, colored friends, and patiently bide your time. It won't come soon, but then you can – wait.
Republicans slated Hicklin for another term as assistant supervisor in 1880, but he finished 14th out of the 14 major party candidates, with 1,770 votes.
Hicklin's name was suggested again for assistant supervisor from the First Ward on the Republican Party ticket in 1890, but he was not nominated, partly because of a split in the black community. According to The Illinois State Journal's story:
Mr. Hicklin is an aged colored man, and was nominated by Capt. Ames "as the first colored man who held an office in Sangamon county." S.B. Turner, editor of The State Capital, thought it unwise to draw the color line in making up the city ticket. He was not in favor of nominating Mr. Hicklin. (The State Capital was a black-oriented newspaper based in Springfield that circulated throughout Illinois; the Chicago Tribune once called it "the recognized organ of the colored people of Illinois," although Turner had a record of disputes with many other African-American leaders. "Capt. Ames" was apparently Norman Ames, a white Republican – ed.)d
Hicklin had been a civil rights advocate even before electoral politics were opened to African-Americans by the 15th Amendment in 1870.
In 1866, Hicklin was a member of Springfield's delegation to the Illinois State Convention of Colored Men, where he appears to have played an important role. Hicklin was named to the group's state central committee as well as to the education and resolutions committees. The resolutions panel concluded its report, signed by Hicklin and six others, with the following:
Resolved, That we do not ask our white friends to elevate us, but only desire them to give us the same opportunities of elevating ourselves, by admitting us to the right of franchise, and an equal chance for educating ourselves, by opening the doors of their free schools and colleges.
Hicklin's activism probably was helped by the fact that he worked as a barber, a profession that gave some black men a measure of both political and financial independence. He was a contemporary and presumably a business rival of William Fleurville, Abraham Lincoln's friend and barber. (Both Hicklin and Fleurville were among 10 barbers, some of them apparently white, who endorsed "that Lightning Hair Dye" in a series of Springfield newspaper advertisements in 1864.)
Hicklin's wife, Martha (1838-1922), also was prominent in a variety of civic positions, among them the Women's Christian Temperance Union, where she was one of the original Springfield members; the board of the Lincoln Colored Home, where she was the first treasurer; and a member of the Illinois State Historical Society and the Illinois Colored Historical Society.
Hezkiah and Martha Hicklin's son, Frank B. Hicklin (1864-1921), won election two decades later as a Springfield alderman, again from the First Ward. Frank Hicklin, whose single term lasted from 1895 until 1897, was Springfield's first African-American city council member.
Hicklin defeated a white Democrat, T.J. Hurley, 529-427, for one of two First Ward seats in what was a citywide Republican Party landslide in 1895. (Elections were staggered every other year; the ward's other alderman, Adam Koch, was a holdover.)
The younger Hicklin sought a second term in 1897, but, like his father, he also was undone by rival black politicians. The Journal's account was decidedly anti-Hicklin.
The colored voters are not as strongly attached to Alderman Hicklin as they were. … Through the efforts of Alderman Hicklin, the state treasurer appointed a colored watchman in the state treasury. He appointed Alderman Hicklin to that place. That may not have been anticipated by the colored boys when they worked for Hicklin's election to the council, but it is the most important visible results of his official career. Under the circumstances, the colored folks seem to feel that there is room for some one else at the First Ward chamber and they are working to bring about a change.
The Journal noted Hicklin's aldermanic term in his obituary on July 24, 1921.
He was 56 years and was employed as a salesman at the W.A. Kruger clothing store. He had been city alderman from the first ward in 1896. …

Mr. Hicklin was on his way to work at the store when he was stricken by (a lung hemorrhage) in front of the Lyric theatre. He immediately was rushed to St. John's hospital, but died before arrival there. Mr. Hicklin was prominent in local colored lodge circles, being grand district deputy of the Knights of Pythias and secretary of the Riverton division of Eastern Star No. 25.
Notes: Almost every contemporary reference to Hezkiah Hicklin, including census and draft records, spells his first name conventionally – with an "e" between the "z" and "k". The exception, however, is his tombstone in Oak Ridge Cemetery. That presumably was approved by the Hicklin family, so SangamonLink has adopted the spelling "Hezkiah."
Hezkiah Hicklin's participation in the 1866 Illinois State Convention of Colored Men was brought to our attention by Thomas Bahde's detailed and fascinating examination of racial justice in Springfield during the 1860s and 1870s, The Life and Death of Gus Reed: A Story of Race and Justice in Illinois during the Civil War and Reconstruction (2014). Reed, described by the Illinois State Register as a notorious "desperado" during the relatively few years he lived in Springfield, died gagged and chained to the bars of his cell at the state penitentiary in Joliet in 1878. His death was a statewide scandal, but, although two guards were fired, no one was prosecuted criminally.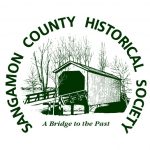 The issues raised in The Life and Death of Gus Reed deserve a SangamonLink entry all their own; meanwhile, however, the book is available through Amazon (including as a Kindle book) and elsewhere. As of this writing (May 2017), Lincoln Library's Sangamon Valley Collection was in the process of acquiring a copy as well.