Endurance tree-sitting – climbing trees and staying in them as long as possible – captivated Springfield youngsters, and amused newspaper readers, for several weeks in mid-1930.
The local tree-sitters were part of a brief nationwide craze for the stunt. "Long before social media linked the nation's youth," the Chicago Tribune said in a 2015 retrospective, "the tree-sitting craze raced across the country, infecting kids in Chicago, Wisconsin, New Jersey, Texas and numerous other states in just days."
The earliest Springfield tree-sitters scaled their trees about July 15, 1930. The fad quickly became an informal competition. It also quickly became disputatious. The Illinois State Journal examined the complications in a front-page article July 18.
Is it necessary to remain aloft continuously, without coming down to sleep at night, to take a bath, or to talk the problem over with parents? If the re-fueling crews desert, what redress is possible?

These were some of the questions that were being asked in order to determine, if a record is established locally, whether it will be recognized nationally. At the same time new contenders were going up, old ones were coming down, and some were getting a new start in another tree, after having been chased out of the one they first occupied. Charges were being made by some of the entrants that other sitters were not playing fair, and were coming down at night.
The newspaper focused on one sitter, Thomas Lavin, 12, of 1435 N. Fourth St. On Tuesday, July 15, Lavin took position in a nearby tree for 6½ hours, but his mother ordered him down to go to bed. He sneaked back into his tree at 4 a.m. the next day. "(A)gain about 11 o'clock that night maternal care dictated that he must come down and go to bed," the Journal said in a front-page story July 18.
Out again early yesterday morning, he remained in the tree for about thirteen hours, until a State Journal photographer appeared to take his picture yesterday afternoon. After the picture had been taken, curiosity proved too strong, so Thomas came down to hear what his mother was saying to the photographer. When he was reminded that he had left his perch he started back up again, but his mother sent him in to the house to take a bath.
Tree-sitting in some other locales included elaborate tree houses and even armchairs. In Springfield, though, sitting equipment was "of the rough and ready variety," the Journal said.
Several have an old chair nailed to a convenient limb and a bit of clothes line to lash them down. Two or three makeshift hammocks have been evolved, one of which is nothing more than a blanket between two branches of a tall oak tree.
Supporters delivered food and drink to the sitters, although the Journal's stories discreetly do not describe other sanitary arrangements. Apparently none of the local sitters fell out of their trees; elsewhere, the Tribune story said, "a few were seriously injured, or even killed."
One group of local sitters was inspired by a $30 cash prize offered by a dozen merchants along East Ash Street. Twenty-two youngsters, both boys and girls, most in their early teens, set themselves up July 20 in trees in a vacant lot at Yale Boulevard and Ash Street.
A few days into the contest, however, the fathers of two of the contestants got into a fight with one of the merchant organizers over whether the rules were fairer to girls than boys. All three were arrested, although the charges apparently were later dropped.
As of July 27, at 196 hours and counting, only seven competitors – all boys – remained. "(T)hey declared, with towsled heads and bare feet hanging out of improvised tree houses, that they were going to stay 'for five hundred hours if they had to,'" the Journal reported.
But by that time, the newspaper added, "the fad of tree sitting in other parts of the city has noticeably declined."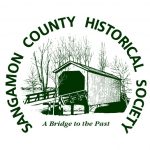 The Journal never reported who won the contest or how long the winner remained up his tree.
Original content copyright Sangamon County Historical Society. You are free to republish this content as long as credit is given to the Society.