Founded in 1838 as the Colored Baptist Church, Zion Missionary Baptist Church, 1601 E. Laurel St., is the third oldest black church in Illinois.
"It was a sad period in history for the African American population," Zion Missionary's website says of the church's beginnings. "They had little to hold onto but their faith and their belief in God."
The Rev. John Livingston, a traveling Baptist evangelist (and the first ordained black minister in Illinois), and 18 black residents of Springfield organized the church at a meeting held in the home of Anderson Carter on April 21, 1838. Livingston briefly served as pastor. He was succeeded later in 1838 by by the Rev. Luther Arnold.
Congregants met in members' homes and other locations for nearly 40 years. The first church building (above) was erected in 1877 at Ninth and Carpenter streets, with bricks for the structure being "hand molded and burnt," the website says, by four church members, including the pastor, the Rev. George Brent.
The name was changed to Zion Missionary Baptist Church in 1894. The congregation eventually purchased property at 16th and Laurel streets for a new church. The first service was held there on Nov. 5, 1972.
Two other local Baptist congregations — Union Baptist, founded in 1871, and Pleasant Grove Baptist, dating from 1895 — can trace their origins to former members of Zion Missionary Baptist Church.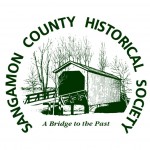 Original content copyright Sangamon County Historical Society. You are free to republish this content as long as credit is given to the Society.