Wolf Creek Mill, also known as Constant's Mill, was on Wolf Creek in Williams Township, about three and a half miles southeast of Williamsville.
The 1881 History of Sangamon County, Illinois states the mill was built in 1825 by Thomas Constant (1776-1840). Constant, a native of Virginia, moved to Sangamon County in 1820. In 1822, he was a charter member and officer of the county's first Masonic lodge, and he was elected captain of one of the county's four infantry companies during the Winnebago War of 1827.
Constant bought the land where the mill was located on Nov. 29, 1824. The mill was mentioned as a landmark in the minutes of the Sangamon County Board of Supervisors as early as 1828.
The 1881 History notes that Wolf Creek Mill was the first built in Williams Township.
"The mill was a combined saw and grist-mill, and did a large business in both branches, having custom for many miles around. The mill had two runs of burrs, one for corn, and the other for wheat."
Constant sold the mill property to James T. Robinson, Abel Pickrell and John Beck, for $900 on Jan. 31, 1837. In turn, they sold the mill five years later to Thomas Lewis, the executor of the estate of John P. Simpson, who had died on Feb. 14, 1842. Simpson and his wife, Mary Jane Cross Simpson, died within a few days of each other of typhoid.
"She was taken out of their home through a window after she died," according to findagrave.com.
The Simpsons, who had come to Sangamon County in 1839, had 14 children. The mill apparently was sold to their estate to provide income for the children.
George Fisher bought the mill on April 7, 1849, for $700.  He operated it for 10 years before selling out to James, John and William Johnston.
The 1881 History reports that John Johnston was the last owner of the mill.  He apparently tore it down sometime before 1881 – more likely before 1874, as the mill is not shown in the 1874 atlas of Sangamon County.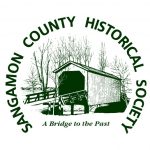 "All that now remains of the mill are the stones, which yet lie upon the banks of the stream," the 1881 history said.
Contributor: Curtis Mann
Original content copyright Sangamon County Historical Society. You are free to republish this content as long as credit is given to the Society.