Football star Red Grange received an unfriendly welcome when he accompanied the 1928 Trans-American Foot Race to Springfield in 1928.
The race, better known as the "Bunion Derby," was the brainchild of Grange's agent, C.C. "Cash and Carry" Pyle (1882-1939). One hundred and ninety-nine runners left Los Angeles on March 4, 1928; 55 finished in New York City on May 26. (The Trans-Continental was a stage race, like the bicycle Tour de France, so competitors all started and ended at the same place each day.)
The field still numbered 77 when the race reached Sangamon County, running up Illinois 4 from Virden, on April 30.
"Led by John Salo, Passaic, N.J., shoe pounder," the Illinois State Journal reported, "the sun and wind burned wayfarers continued to walk, limp and wabble into town until 5 o'clock in the evening. Salo reported at the Elks club at one minute after 11 o'clock."
The runners were housed at the Elks Club. "A young carnival or sideshow" was created in the Elks auditorium, where Grange, who was accompanying the runners across country, "played host at a cabaret dance on the roof garden."
That's also where two Sangamon County deputy sheriffs called on Grange (1903-99) to serve a $20,729 writ of attachment, allowing them to seize his property in payment of a debt owed to a bank in Champaign. Grange avoided the writ, claiming he had nothing with him the deputies could seize and that he had nothing to do with any race debts. Pyle, subject to the same writ, could not be found in Springfield, so the deputies left empty-handed.
Grange later issued a statement about the writs.
"These writs mean nothing. I have nothing here which they can attach and hold. I do not owe the money or I should have paid it," Grange said.

Grange stated that he is not associated with C.C. Pyle as a partner in the marathon race. He said he was only traveling along with the runners and that he did not know anything about Pyle's business affairs.
Grange left town toward Lincoln at 7 a.m. May 1, along with the contingent of runners, the debt apparently still unsatisfied.
To the Journal's editorial page, Grange's involvement with Pyle and the cross-country race was disillusioning.
We are not surprised that Grange denied association or connection with (the race), or that Pyle, its sponsor, did not show his face. If it was only a coincidence that brought Grange and these tatterdemalions to town at the same time, we forgive him and offer apology to the community in his behalf, but we fear that it was not a mere coincidence, hence our apology can not be sincere.

It is distressing to record the fall in popular esteem that he has experienced and it is even more distressing to know that he himself alone has been responsible. Seldom has a young man started in life with so brilliant a prospect ahead of him and not often has one, in similar circumstances, made a more humiliating failure.
The Trans-American Foot Race ended up a financial loser, although Pyle did promote a second version the next year; this one, however, went the opposite direction, from New York to Los Angeles, and the route did not come through Springfield again.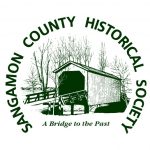 Red Grange, undaunted by the Journal's condemnation, resumed his football career, playing for the Chicago Bears through 1934. "The Galloping Ghost" is considered one of the greats of the game; when the Football Writers Association of American chose an all-time All-America team in 1969, Grange was the only unanimous choice.
More info: Bunion Derby: The 1928 Trans-Continental Foot Race, booklet by Janice Petterchak, published by the Sangamon County Historical Society.
Original content copyright Sangamon County Historical Society. You are free to republish this content as long as credit is given to the Society.