The Sangamon County Farm Bureau was organized on Oct. 13, 1917, with a membership of 300 farmers, each of whom pledged to donate $10 toward the hiring of a county soil adviser.
Sangamon County's action was part of a wave that followed the legislature's approval of a state subsidy to help pay advisers' salaries. The federal government also paid part of the adviser's wages, but the state law also required local farmers to chip in.
The new farm bureau largely supplanted the Sangamon County Farm Association, which had been reactivated two years earlier to advocate for farm interests. Most of the association's leaders immediately became active in the farm bureau – among them the bureau's secretary and spokesman, S.E. Prather of Springfield (1850-1927). (Members voted to keep the association in existence, but it folded anyway in the early 1920s.)
Farm bureau leaders first offered the adviser's position to H.P. Rusk, who headed the department of animal husbandry at the University of Illinois in Urbana (he later became chair of the U of I's College of Agriculture). However, Rusk was unable to leave the U of I before the end of the spring 1918 term and never took the Sangamon County job. The county group then turned to I.A. Madden (1884-1963), agriculture professor at Illinois State University, Normal.
Madden began his duties with a will in March 1918. One of his first letters to local farmers, published in the Illinois State Register on April 13, recommended that farmers: plow under dead vegetation, such as cornstalks, rather than burn it; spray apples to kill worms; buy seed corn early; replant bluegrass pasture with rapeseed and oats for hog forage; and report the wheat harvest for government consumption (World War I was under way).
That first letter also planted the seeds (so to speak) for two initiatives that would play a major role in building the local farm bureau: creation of cooperatives to help farmers sell their surplus crops and to buy limestone and phosphate at better prices.
Madden stepped down as county adviser in 1926 to be more active in three organizations that grew out of that letter: Producers Dairy, which marketed milk products throughout the county; Sangamon Farmers Oil Co.; and Producers Livestock Commission Co., which dealt in cattle and hogs. By the time he changed jobs, the farm bureau had grown to 1,200 members and was buying and selling $100,000 worth of seed and supplies annually.
Madden was succeeded by Edwin Bay of Aledo (1898-1975), who remained county adviser for 37 years.
As of late 2016, the Sangamon County Farm Bureau boasted nearly 10,000 members and a wide range of educational, business and farm programs.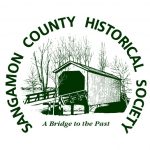 Note: The Sangamon County Farm Bureau's website's "About" page says the organization was formed on Dec. 20, 1918 and that it was "the first collective voice for farmers in the area." Dec. 20, 1918, is the date of the bureau's incorporation with the state, but the founding meeting took place on Oct. 13, 1917, and the group was very active prior to incorporation. And the Sangamon County Farmers' Association –  which, for instance, lobbied against a road bond plan under which farmers would have paid a disproportionate share of taxes – probably deserves the "first collective voice" title.
Original content copyright Sangamon County Historical Society. You are free to republish this content as long as credit is given to the Society.