A violent windstorm demolished the headworks of the Solomon Mine south of Auburn on July 11, 1911, killing one man and injuring several more. The Illinois State Register covered the devastation:
The storm approached Auburn from the northeast and all the way between that city and Springfield growing corn was leveled to the ground, oats and wheat in the shock were blown over and much damage caused. It was not until the storm reached Auburn, however, that it reached the proportions of a cyclone.
Two mine employees, weighman Alva Byers and his assistant, Thomas Owens, were in the tipple of the mine when the wind hit.
Situated on high ground and with nothing to break the full force of the cyclonic wind, the tipple of the Black Diamond mine, rising seventy-eight feet into the air, was unable to withstand the terrific force of the storm and fell crashing to the ground. … The top works of the mine were blown a distance of one hundred and fifty feet to the southwest and it was in the wreckage … that the bodies of Owens and Byers were found. The latter was dead when assistance reached him, but Owens was conscious and asked that he be taken away from the scene as quickly as possible.
Early coverage suggested Owens, who suffered broken ribs and possibly a punctured lung, might also die, but he apparently survived. Another half-dozen surface workers were not seriously injured, and all 285 underground miners used an escape shaft to exit the mine.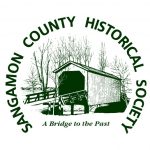 Total damage at the mine, located on the Chicago & Alton Railroad between one and two miles south of Auburn, was estimated at $25,000. Owners said they would rebuild the tipple, but said it would be two months or more before the mine could reopen.
Hat tip: John "J.T." Taylor 
Original content copyright Sangamon County Historical Society. You are free to republish this content as long as credit is given to the Society.