The cave-in of an abandoned coal mine on Oct. 15, 1910, caused some nervous moments in Chatham, but turned out not to be a serious danger.
The mine, originally opened by the Chatham-Virden Coal Co. about 1900, was closed a few years later because of an intractable underground fire. The problem apparently first developed about 1903, when the mine's entire aboveground structure was destroyed by a blaze that started in a pile of railroad ties. More than 160 miners were put out of work.
The structure — the "tipple" — was rebuilt, but the fires continued, and the mine was closed about 1907. Three years later, some of the wooden beams that supported the underground tunnels gave way, and the new tipple collapsed into the resulting hole.
The cave-in began about 3 p.m., the Illinois State Journal reported.
"Within a few minutes, the mine tipple had fallen into the opening, and other parts of the topworks began to tumble," the Journal said. "Tracks of the Chicago & Alton railroad sixty feet away are endangered and experts who arrived in Chatham early in the evening expressed their fear of a general cave-in of (mine entrances), which means the ground in the vicinity of the mine for many feet around may settle several feet."
The next day, however, the Journal assured residents the mine posed no danger.
"Since the tipple and main shaft fell in Saturday evening, there has been no further fall of earth noticeable," the paper wrote. "… It is probable that the dirt will be cleaned from the shaft and the mine top will be resealed."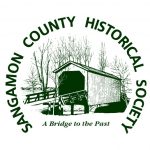 When it collapsed, the mine was owned by the Illinois Colleries Co. of Chicago, which bought it and two other local mines in 1895.
Hat tip: To John "J.T." Taylor, whose question about the photo above brought this incident to our attention. 
Original content copyright Sangamon County Historical Society. You are free to republish this content as long as credit is given to the Society.