The first automobile in Springfield was a Duryea purchased by shoe shop owners J.F. Miller and E.E. Staley. It hit Springfield streets in the spring of 1900. The Illinois State Register published a brief item on April 16, 1900:
J.F. Miller and E.E. Staley of the firm of Miller & Staley left yesterday afternoon for Chicago, where they will purchase an automobile. The vehicle will be brought to Springfield in a short time, and will be the first to be seen on the streets here.
Miller described the car in a story printed in the Illinois State Journal's "Annual Motor Number" on April 23, 1911.
It was a two-passenger car, gasoline, and carried a three-cylinder engine.

By the way it was a good car. I think it was about twelve years ago that I got it, and unless I am mistaken it cost me $1,250. The machine was a runabout and I bought it for personal use.

"Yes, the people stopped to look at it, and naturally the car in action attracted attention. I had to contend with the theory in that day that the machine had no rights whatever, and that the citizens were conferring upon me a great favor in permitting the continuance of my existence while I drove about. It was much the same way with the bicycle, you remember, when it was first introduced.

One of the defects in the original cars was the weakness and inadequacy of the sparking device and the batteries carried. Given these same devices in improved condition on that old car, and one would have a car as good as most of those made today.
Ross Baker bought the city's second automobile, which was steam-driven, shortly after Staley and Miller's car was introduced to Springfield, Miller said.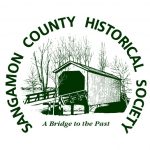 Staley and Miller later partnered with James Easley to found the Harvard Brush Co. The firm relocated from Sullivan, Ind. to Springfield's Harvard Park neighborhood.
Note: This item has been updated to correct the date when Staley and Miller purchased their Duryea.
Original content copyright Sangamon County Historical Society. You are free to republish this content as long as credit is given to the Society.