On March 12, 1882, "a rather dull day for the gatherer of items," an anonymous Illinois State Journal reporter visited the Sangamon County Jail seeking news. He was directed to "an old thoroughbred tramp being entertained at present in our hostelry." The resulting story was largely a transcription of the tramp's tales.
The tramp, who said he'd been on the road for 15 years, said whiskey had been the downfall of nearly every "bum" he had met – three-quarters of whom, he estimated, were "the jolly, good natured, quick tempered, whisky loving Sons of Erin." Working people were the most generous to tramps, he said, while "the lawyers and doctors and high toned people are generally hard to work on."
Springfield, he said, "is a right neat little town to tackle."
Like every place else you have your good and your bad. More bums are entertained at the hospital (St. John's Hospital) than any other place. The Sisters never refuse, and you bet there is not a fellow among us but would fight for them any day.

Among the private houses in town, the house of Mr. Ruth, now dead, was one of the best, a fellow never got kicked out of there; Mrs. Haynie (possibly Elizabeth Cooper Haynie), Reddick Ridgely, Mrs. T.S. Little, and Mrs. Turney (probably Maria Warren Turney) are all very good and reliable. George Black too seldom refuses a fellow a bite to eat and a cup of coffee. Mrs. Levin's thought by all the "bums" to be really the most charitable woman in the town. The east part of town used to be the best, but since they have got to appointing all the "cops" from that quarter it ain't safe. I forgot to say that Madam Brownie (operator of a famous house of prostitution) never turns any one away, and she usually gives money, too.

You want to know the places we don't patronize, do you? Well, C.M. Smith has a dog which he always lets loose for our benefit. Every one of the bums has heard of this dog. Frank Tracy (could be either father Frank W. Tracy or son Frank E.), too, always kicks us out if he gets a chance; so we fight rather shy of their places, as we do of the house of John A. Jones (probably John Albert Jones) who is pretty rough on us. We like Springfield pretty well, however, and visit it pretty often.

Yes, of course, we all know each other by name. Among the old timers who have been travelling the past 15 years, the best known are Red Tom, Prussian, Big Jersey, Rags, Reckless Jim, Phoenix Joe, Sammy Spots and Snorty the Turk. The later boys, the ones you see oftenest now, are: One-eyed Hogan, Jimmy Hit the Road a Whelt, Yorky Jim, Shorty, Peg Keno, Cockney Tom, Slim Jim, Seldom Seen, Scar Faced Charlie, Old Baldy, California, Auburn Red, Brooklyn Bill, Yorky Bill, Curly McCarty, Old Pekin the Tank, Cap Fingers, Cap Murphy, New Orleans Dutch, Sailor Kid, Billy Kid, Bolivar, Dakota, Gypsy Ned, Boston Mack, Skip Mack, Spot Kid, Buffalo Bob, New York Chin, Star Curly, and Yellow Slim. These are the most prominent men in the profession, and are a set of jolly fellows.

You need not thank me, Mr. Reporter. You are very welcome. Next time you get short of an item you will know where to go for news.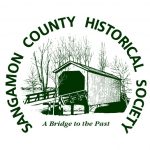 The reporter said he left "with a very flattering opinion of the intelligence and affability of this gentleman." The tramp's name went unpublished, "as some of the 'Bums' might see it and think he had been giving the profession away."
Original content copyright Sangamon County Historical Society. You are free to republish this content as long as credit is given to the Society.