More than 1,000 people paraded through downtown Springfield on Oct. 12, 1920, to celebrate Columbus Day. Floats depicted the Statue of Liberty, Christopher Columbus himself and Columbus' flagship, the Santa Maria. Italian fraternal societies from Springfield, Virden and Decatur turned out, and two bands were in the line of march.
Celebrants heard from U.S. Sen. Lawrence Sherman and other speakers, including John Picco of Springfield, the Italian vice consul for Central Illinois. The Italian band of Virden supplied music that evening on the courthouse square.
The day was organized by Sangamon County immigrants Pietro Bartolomucci, Antonio Randazzo, Gaspare Randazzo, Croce Bartolomucci, Baldassare Prinzivalli, Antonio Crifasi and Antonio Ganci. And it demonstrated that local Italians made up a proud, vibrant community only a few decades after immigrants from Italy began settling in the Springfield area.
The typical image of an Italian immigrant to Central Illinois at the turn of the 20th century is that of a coal miner, swarthy in appearance and rough-hewn in dress. That image isn't entirely wrong.
Yet, when masses of Italians and other Europeans began emigrating to Sangamon County during the "Great Wave" of the early 20th century, they were greeted by some entrepreneurial Italians who had preceded them. Many of those earlier immigrants had travelled from Louisiana through St. Louis and on to Springfield, where they learned English and rapidly assimilated into society.
Early immigrants
Among the earliest Italian immigrants to Sangamon County was Giuseppe "Joseph" Maggenti (1845-1908), who ran a confectionery shop and fruit store in the 800 block of East Washington Street.  Maggenti (pronounced with a soft "G" – "Majenti") emigrated from Tuscany on the advice of Giovanni "John" Lucchesi, another Tuscan who was working on molds for the bronze figures adorning the state Capitol.  The Lucchesi family moved to Springfield in the 1870s.  Eventually, Joseph Maggenti married John Lucchesi's daughter, Mary Catherine. Their son, Joe Jr. (1880-1945) took over the produce firm on Washington Street.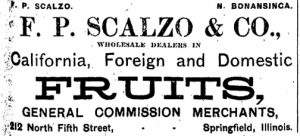 Another of the early Italians was Felice "Felix" Scalzo (1871-1928), a wine merchant who emigrated to St. Louis and then to Springfield in the 1880s.  He partnered with Sicilian immigrant Nicolo "Nick" Bonansinga (1853-1930), whose family ran a grocery.  Bonansinga and Scalzo formed F.P. Scalzo & Co., 421 E. Monroe St., which specialized in the importation of fruits and nuts.  Whole walnuts were a popular autumn sales item, according to an 1889 Illinois State Journal article.
In 1898, Felix Scalzo wed Mary E. Maggenti, the eldest daughter of Joseph and Mary Catherine Lucchesi Maggenti. "(T)he wedding is one of special interest, as the groom-to-be is very well known … (and) the bride is a popular and well known young lady," the Illinois State Journal reported.
Scalzo managed the fruit department of John W. Bunn Grocery before going on to buy Springfield Produce Co. from Frank Gillardi in 1918. In addition to owning Springfield Produce, Felix Scalzo was operations director of the Sangamon Dairy and a president of Springfield Lumber Co., according to a State Journal-Register interview with his daughter Lillian (1900-84), who was an artist and arts educator in Central Illinois.
One of the most important early Italian residents of Springfield was Arturo Granata (1870-1914), who arrived with his wife Maria (Puglisi) Granata in New York from Messina, Italy, in 1893. They made the crossing so Arturo could work in the produce business with fellow Sicilian Giacomo "Jake" Bonansinga (1867-1941), who was already in Springfield. Maria Granata (1873-1924) also had links to the produce business in Springfield – relatives Luigi and Stefano Puglisi had emigrated from Messina earlier and opened their own produce firm.
The Granata family and their three children lived on North Fifth Street, next door to the Puglisi produce business, as of the 1900 U.S. Census. Arturo was identified as a fruit dealer. In 1905, the Springfield business directory listed him as "salesman, Puglisi Fruit and Produce Company."  By then, the Granata family lived in a predominantly Sicilian neighborhood at Seventh and Mason streets.
Immigration influx
By the late 1890s, U.S. ports had become crowded with a constant stream of immigrant arrivals, many of them Italian.  As an example of this new immigration flow, the Illinois State Register reported that in New York during the last quarter of 1898, "the largest number landed from any one country were southern Italians, 18,149, or nearly one-fourth of the total."
The federal government responded to the influx by enacting immigration reform and by construction of a new, fireproof immigration station on Ellis Island in New York.  On its opening day, December 16, 1900, the facility processed thousands of nationalities, including 2,000 Italians.
Known as the "Great Wave," immigration from 1900 to 1914 was attributed to people escaping poverty and religious persecution in Europe, Russia and elsewhere.  During the Great Wave, more than three million Italians entered the U.S. and Canada.
However, in contrast to the Bonansinga, Scalzo, Maggenti and Granata families, who were made up of skilled immigrants who assimilated quickly, most of the new Italian immigrants were unskilled, illiterate peasants. Many could not even speak proper Italian.  They spoke dialects, some as foreign-sounding to their own ears as Hungarian or Japanese is to English speakers.
Dialect was one reason many Italians emigrated in groups and lived together in their own neighborhoods in the U.S.  Another reason was that Italians frequently emigrated in family units and joined relatives who had emigrated earlier.   The result often was that neighborhoods would fill with immigrants related to one another by blood or by marriage.
Regional differences
In Springfield, for instance, Sicilian immigrants tended to live north and east of St. John's Hospital, while Italians from the Abruzzo region in central Italy collected in the northeast section of the city, between North Grand and Sangamon Avenues, as well as in the village of Riverton.  A group from the Piedmont region in Italy's northwest resided in the Devereux Heights neighborhood and in Auburn.
A 1920 report, The Immigrant and Coal Mining Communities of Illinois, noted how the foreign- born in Sangamon County "in 1900 constituted 11.5 per cent and in 1910, 13 percent… (this was) almost entirely an increase in the numbers from southern and eastern Europe."  Immigrants who previously were farmers or farm laborers in Europe worked in mining because it was "the best-paying job they could get when they came," the report added.
The report also mentioned that, as towns filled with immigrant workers, "there was opposition to them on the part of the English-speaking miners and many of the latter left."
That opposition sometimes turned into violence – which could go both ways.  A "gang of American laborers" forced Italian workers out of a camp at Chain of Rocks near St. Louis in 1891. However, four years later in Spring Valley, 110 miles north of Springfield, a group of immigrants, many of them Italians, joined with U.S.-born miners to force some African-American miners to leave Spring Valley. In the end, a riot ensued and 14 African-Americans, including a mother and her child, were critically injured.
In the aftermath, the Illinois State Register printed an acerbic response:
The lawlessness at Spring Valley is the direct result of the policy of greed which has driven out of the mining industry intelligent American citizens and replaced them with ignorant Italians and Poles, and the lowest stratum of (African-American) life in this country.
Consular agent
Against the backdrop of increasing Italian immigration and racial unrest, Arturo Granata became Italy's consular agent at Springfield.
Granata had worked in Springfield since 1893 and was bilingual, educated and possessed secretarial skills, but how he was chosen for the post is not known. He assumed his duties on Oct. 22, 1907, according to the 1907 Governmental Biographic Register.  Italy's consular offices were in the Myers Building, 103 S. Fifth St. As consular agent (also sometimes called vice consul), Granata was subordinate to the Italian Consul General in Chicago.
Granata's office represented Italians in Central and Southern Illinois. His duties ranged from English translations of Italian documents to acting as Italy's representative at functions to settling legal disputes involving Italian subjects.  Granata also served as administrator for the estates of deceased Italian citizens, probably because some families could not afford lawyers or navigate the legal system due to weak command of the English language.
In March 1908, Granata aided in the awarding of $5,000 in damages (roughly $95,000 in contemporary value) to the family of Saverio De Pinto, an Italian accidentally killed by a railroad car near Girard.
That same month, he launched an investigation into the death of Samuele Maneri, a produce dealer in Springfield who died after being taken into custody at the Sangamon County jail.  Granata claimed he could "prove deputies injured Maneri", according to a report in a Springfield newspaper. While the case went to pre-trial, the final outcome was never published in Springfield's papers.
Perhaps the most significant intervention by Granata occurred when 120 Illinois Central Railroad workers attacked an Italian neighborhood in Clinton on the evening of April 16, 1908.  The riot was reported as having been "started by whites who were forced out of work by the arrival of the foreigners."  Grouped into squads of 35 to 40 men, rioters blasted "five-hundred to six-hundred shots" into the homes of Italian workers.
Fortunately, no one was killed, but Clinton's 50 Italians fled town following a written directive.  Concerning the families, the Illinois State Journal declared, "…the town is forever cleared of this nationality as a result of the riot…" and the paper characterized the action as "one-sided."
When the perpetrators were caught, the Illinois State Register reported that catching them "was due largely to the activities of Arthur Granata of the Italian consul agency of Springfield and Detective Dan Healy of the Illinois Central Railroad."
Earthquake tragedy
Granata also responded after an earthquake destroyed the towns of Reggio, Calabria and Messina, Sicily, killing more than 200,000 people, in December 1908.
Although concerned about his own family in Italy, Granata steadfastly made rounds in January 1909, collecting donations to aid the quake victims.  A committee was formed, with Felix Scalzo, Nick Bonansinga, Leo Bonansinga and Antonio "Tony" Sicilia all helping to obtain an immediate sum of $85 ($1,640 today) from 30 local Italians.
By Jan. 7, the Journal reported, the committee had sent more than $200, and Granata was due to visit the village of Riverton, "where Italian miners have signified a willingness to contribute to the fund."
Springfield merchants contributed liberally to the fund raised by Vice-Consul Arthur Granata of this city, and Springfield's total … will probably be not be less than $1,300 ($25,000 today), a higher figure than was first thought probable.
In late January, Jake Bonansinga learned in a letter that his 90-year-old mother and his sister survived the quake. They had to live under a tree with other families until they could relocate to Northern Italy.
However, the same letter contained bad news for Arturo Granata. As reported on the front pages of the Springfield papers, "Granata (has) learned that his only sister, her husband, his uncle and two cousins, all of Messina, were killed instantly in the calamity."
New vice consul
The deaths (probably compounded by the suicide of his 32-year-old brother Cesare in Springfield) were catastrophic for Granata. In June 1912, he abruptly resigned as consular agent. The position was given to Giovanni Picco, who a year later married Granata's daughter, Marie.  Arturo Granata died in February 1914 "from a five year illness at the age of 42," according to the Illinois State Register.
Giovanni Picco was known by his Americanized name, John Picco. He arrived in Springfield in 1910 and became a citizen. Aside from his connection to the Granata family, he possessed many qualifications for the vice consul post.  According to a 1918 Illinois State Register profile, Picco, who hailed from the Piedmont region of Italy, studied philosophy and then civil and canonical law in his native country. In addition to Italian and English, he spoke French, Spanish, and Latin.
As consular agent, Picco performed many of the same duties as Granata. He provided support in legal matters involving Italian immigrants and served as keynote speaker during city celebrations.  Like Granata, he also served as an administrator of the estates of deceased Italians in Central Illinois.
In 1913, Picco offered his legal assistance when two Italian immigrants, Francesco "Frank" Rulle and Umberto Dalimonte, were shot and killed after closing their Springfield grocery store. (Rulle reportedly was the father of Meredith Rhule, a personality in his own right who became a World War II hero and served as Sangamon County sheriff from 1946 to 1950.)
Springfield's newspapers hurried to report that the crime gang La Camorra (The Black Hand) of Southern Italy had carried out the murder.  No proof was presented for that claim, however.  Although the crime remains unsolved, in 1917, local newspapers reported the killing might have involved a pair of African-Americans arrested for another murder in Sangamon County and potentially a third man, escaped convict Lon A. Wilson.
Immigration climbed again after a lull during World War I.  U.S census statistics from 1920 indicate 11,346 residents of foreign birth lived in Sangamon County, 6,225 of them in Springfield alone.  Among the top groups in town, 2,293 were from Germany while 1,347 came from Italy.
Immigration violence
The increase in immigration again led to more racial violence and yet again, Illinois played a part.
The violence occurred in August 1920, when two young men were found murdered near Royalton, with their "throats cut ear to ear."  One body was identified as a 19-year-old Italian-American named Amiel Calcaterra (his given name probably was Emilio), and the other body was "former Springfield resident Tony Hempel, aged 18."  Hempel was born Peyton Roderick Hemphill and his family lived in Marion, according to Illinois death index information.  The suspect in the crime was Italian – a "chauffeur named Settino Desesnis" (it is likely his correct name was Settimo De Santis).
When news about De Santis was leaked, 150 people stormed a jail to lynch him. According to Dr. Salvatore J. LaGumina's book on anti-Italian violence in the U.S., the incident began when De Santis was hurried out of the jail for his safety.  When the crowd learned he had been taken away, the mob wreaked havoc on the Italian community in West Frankfort, as well as against immigrant communities around the area. Governor Frank Lowden called out the National Guard to restore order.
Picco rushed from Springfield to West Frankfort and reported back about an immigrant named Luigi Carraro, a father of three, who was at first robbed and then rioters returned to his home to shoot him multiple times.  A cleaver also crushed his skull.  Five other Italians in West Frankfort were beaten and robbed of money, and three Italian-owned businesses, including the Italian fraternal lodge, were "damaged or totally destroyed."
Picco was quoted in the Illinois State Journal as saying that, in West Frankfort, "rioting undoubtedly at first was directed against Italians … (then) it was later directed against all of foreign appearance." He said legal charges would be brought against the town of West Frankfort, and he blamed businessmen there for doing nothing as citizens went on the rampage.
He added that an estimated 150 Italian citizens fled West Frankfort in the aftermath. At the same time Picco reported his comments, however, Illinois assistant attorney general Charles Middlekauf told the press, "the seriousness of the affair had been greatly exaggerated."
In addition to the consulship, Picco had a variety of commercial and political interests, some of which were intertwined with his official consular duties.  According to published newspaper reports of the era, Picco also had business connections with partners whose own business practices were questionable.
Picco killing
On April 16, 1932, Picco was murdered after leaving the home of his brother.  His 9-year-old son, John Jr., was crossing the street with him when a Plymouth pulled up next to them. Men inside the car "fired at least fifteen slugs" into Picco's chest.  He died instantly.  His son narrowly escaped the assassins' bullets and ran screaming back inside his uncle's home.
Following Picco's death, the office of the Italian vice consul was closed down.
The killing stumped authorities and remains a mystery today. At the time of his death, the Illinois State Journal wrote that Picco's "political, social and business contacts (make it) difficult for authorities to establish a motive for his assassination."
The Springfield consular office reopened in 1938, with Dr. Dominico Sterbini as vice consul.  Having been a physician in Springfield since 1925, Sterbini reportedly was chosen because "he was most fitted for the position (and) was urged by many Italian-Americans of central and southern Illinois."  Sterbini continued to see his patients as vice consul, so the consular office was moved to his medical space in downtown Springfield.
While he assumed the post at a time when Italy was undergoing modernization under dictator Benito Mussolini, Sterbini's apparent partiality for Mussolini's Fascist regime may also have played a role in his selection as vice consul.
In the autumn of 1935, two years before he was chosen vice consul, Sterbini sat on a panel at the Knights of Columbus hall in Springfield where the Italian Consul General of Chicago spoke.  A reported "1,000 Italians of Springfield and vicinity" listened to an appeal for monetary assistance for Italian soldiers occupying Ethiopia.  As quoted in the Illinois State Journal: "Dr. Domenic Sterbini, who also spoke, appealed to the Italians present to support 'this meritorious and humanitarian cause' and pledged himself to the cause…." The same day the talk occurred, 51 members of the League of Nations joined in a blockade of Italian commodities in an effort to punish Italy for its conquest of Ethiopia.
In March 1939, Sterbini delivered a central Illinois radio address on the "Twenty Years Since (the) Foundation of the Fascist Youth Organization in Italy."
Sterbini's apparent sympathy for Italian fascism is not fully understood.  Italian authorities probably regulated comments he made regarding Italian policy and opinion.   However, when Italy joined forces with Nazi Germany, the Journal quoted Sterbini as saying, "Affairs of the consulate here have been at a standstill for months, … because of strained relations between the United States and Italy."
Office closes
In June 1941, the U.S. Department of State ordered Sterbini to close the consulate office due to security measures.   Sterbini and his wife could have been in personal jeopardy as well, since he was essentially working for the Axis during a time of war. However, it was also reported, "he does not expect to be ordered out of the country."  Sterbini and his family ultimately moved out of Illinois after closure of the consul office.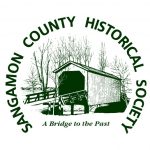 Following World War II, Italian immigration in the U.S. declined due to restrictions placed on immigration from nations that had been war enemies. The affairs of Italian immigrants accepted into Illinois were handled by the Italian Consulate at Chicago. According to the archives in the Chicago consulate, the Springfield office was formally dissolved in 1946.
Contributor: William Cellini Jr.
Original content copyright Sangamon County Historical Society. You are free to republish this content as long as credit is given to the Society.