Alice Gilliland (1863-1926) helped found the Royal Neighbors of America, the first "fraternal" benefit society to offer life insurance to women, and rose to become the group's Supreme Oracle, its top post.
Gilliland, who was among the first 500 members necessary to obtain an insurance charter for Royal Neighbors in 1895, lived in Springfield when she was elected the society's Supreme Recorder in 1921. She was elected Supreme Oracle in 1925 and still held the post when she died in 1926 in Rock Island, where the society was headquartered.
Royal Neighbors also was one of the first insurance organizations to recognize that women tended to live longer than men. The group advocated for women in other ways too, including supporting the women's suffrage movement.
It remains in existence today, with more than $2 billion of life insurance in force.
"Her leadership was one of courage, ability, power and broad vision," Gilliland's obituary read. "By her courageous leadership and devoted life of service, she has won for herself a wide circle of friends who will mourn her death."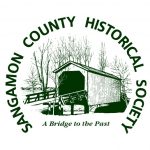 Gilliland is buried in the Oak Ridge Abbey mausoleum in Springfield.
Original content copyright Sangamon County Historical Society. You are free to republish this content as long as credit is given to the Society.