Three people died and 38 more were injured on Aug. 20, 1966, as Illinois State Fair workers were preparing a catwalk for a planned demonstration by U.S. Army Green Berets. The accident was the worst ever in state fair history.
The Green Berets intended to demonstrate how they were trained to rappel down from helicopters to rescue wounded soldiers in Vietnam. The plan involved stretching a taut rope 100 feet from the catwalk atop the fairgrounds grandstand to the ground.
All those involved believed the catwalk had been welded to the roof deck, according to testimony at a Sangamon County coroner's inquest held Aug. 25. In fact, the structure was supported only by four angle irons attached to the deck with wood screws.
On the ground, the rope was anchored by a tow truck. Its operator, Ernest Schmidt, said Green Beret Sgt. 1st Class Robert Rumrill was in charge of the ground rigging. Rumrill took four hitches in the line, Schmidt said, drawing it so tight the truck's back wheels were spinning. Schmidt said he told Rumrill he thought the line was "too damn tight."
"He said the sergeant grabbed the line to test it, and 'that's when all hell broke loose,'" according to an Illinois State Journal article about the inquest.
The catwalk fell at an angle. Killed were two photographers who had been standing on the catwalk, Glen Lockwood of San Bernardino, Calif., and Dale Mueller of Overland, Mo., and Ralph Heger of Springfield, stage manager and electrician for grandstand shows. Heger, at ground level, was crushed when the catwalk fell on him.
Another man, Ronald Drewett of Springfield, was critically injured, and four others required hospital treatment. The others injured were treated at a fairgrounds first aid station.
The coroner's jury ruled the deaths accidental.
The tragedy was compounded the next day, when motorcycle racer Bill Corbin was killed in a five-bike pileup.
Other fatalities
The state fair has been the scene of at least 12 other fatalities. Most took place during auto or motorcycle racing, but others occurred in a train wreck, because of a stabbing and on a carnival ride. The list includes:
*Sept. 25, 1900: A Chicago, Peoria & St. Louis Railroad train carrying fairgoers to and from the fair derailed near the southeast entrance (now Gate 2) of the fairgrounds and struck an oncoming Chicago & Alton engine. The CP & St.L train overturned, crushing both the engineer and fireman – John Ryan and Jeremiah Hall, respectively. Both men lived in Springfield.
*Oct. 1, 1910: Larue Vredenburgh, president of the Springfield Automobile Club, was killed while driving in a 20-mile race.
*Sept. 19, 1925: In the feature auto race, a multi-car accident killed driver Roy Humphrey. Three other drivers were injured.
*Aug. 17, 1929: Auto race spectator William Wayne was killed and three drivers and seven spectators injured when two cars smashed through the outside metal rail.
*Aug. 20, 1938: Billy Winn, winner of state fair auto races in 1934 and 1935, was killed in a crash on Lap 4.
*Aug. 21, 1938: Motorcycle racer Floyd Faulkner of Tilton was killed in an accident during time trials.
*Aug. 17, 1940: Carnival dancer Lorene Dudley was stabbed to death by her boyfriend, Booker T. Starks, a saxophone player with the fair's carnival contractor, the Hennies Brothers Shows.
Aug. 17, 1947: Rider Kenneth J. Ingle was killed in a four-motorcycle wreck.
Aug. 22, 1964: Bill Horstmeyer, driving in his first USAC event, hit the fence on Turn 4. His car rolled over several times, landed upside-down on the front stretch and caught fire. Horstmeyer died a short time later.
Aug. 15, 1996: Hope School student Tamara Terrell, 14, apparently panicked at the top of the carnival's Kamikaze ride, slipped out of her shoulder harness and fell through an opening in the gondola she was riding in. She was struck and killed by the gondola as it completed its arc.
Aug. 19, 2001: Dean Roper, who started 10th in the Allen Crowe Memorial auto race, had a fatal heart attack at the wheel, resulting in an accident on Lap 18.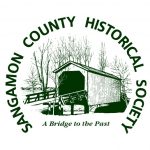 Hat tip: Information on all the above incidents originated with a comprehensive Illinois State Fair timeline compiled by Springfield researcher Tom Fitch.
Original content copyright Sangamon County Historical Society. You are free to republish this content as long as credit is given to the Society.