Riddle Hill got its name in 1899, when farmers and other residents west of Springfield expected a proposed Springfield-to-Jacksonville electric railway to boost land prices in the area. The Illinois State Journal announced the creation of a new Riddle Hill post office on April 11, 1899, marking the first time the name "Riddle Hill" appeared in print.
Local people are very much taken up with the idea of a trolley railway line from Springfield to Jacksonville. The proposed route is on or near the highway (now Old Jacksonville Road — ed.) connecting the two cities, and passes through a fine populous farming country. …

A great many farmers think it feasible to utilize the highway for track purposes, and where it cannot be laid in the public road others seem willing to give the right of way. Still others will subscribe to the capital stock, and those who are posted think such an improvement would be a paying investment. It is believed that the value of farm lands would advance from $10 to $20 per acre along the line.

A new postoffice (sic) named Riddle Hill has been established seven miles west of Springfield on the state road. It is supplied with mail from Farmingdale.
The Journal added a few more details in its April 23 edition.
Riddle Hill postoffice is located at what formerly was known as Babcock Shop. Miss Minnie Tripp carries the mail between Farmingdale and the new postoffice. Mr. A.M. Gunnett is the postmaster.

Frank Clark is putting up a state building at Riddle Hill and is getting ready for the boom which is coming and will reach its height when the Springfield and Jacksonville Electric railroad, with James Maxey as general manager, is a certainty.
The area is named after Martha Archer Riddle (1817-89). The Archers, who came to Sangamon County in 1820, were prominent among the area's early settlers, but Martha Riddle probably became the post office's namesake largely because her son-in-law was Armer Gunnett, the postmaster.
Martha Riddle moved to Barclay, on the opposite side of the county, after her marriage to John Riddle, but returned to live with her birth family after his death in 1878. She is buried in the Old Salem Cemetery at Riddle Hill.
"Thus ends a long career of quiet usefulness," her Illinois State Register obituary said. "A lovely woman, who believed in doing everything that came to her hand in the best possible manner, who had good words for all and who spoke ill of none, has passed away."
The Riddle Hill post office was short-lived. It and four other small post offices closed in 1903, when Rural Free Delivery was expanded in Sangamon County.
The dream of a Springfield-to-Jacksonville electric railway lasted longer, but still never came to pass.
Grading work finally got under way in 1910, but progress bogged down in legal wrangles and apparent financing problems. In 1917, the contractor hired to lay the track, after going unpaid, seized 350,000 pounds of steel rails designated for the line, and the railway's promoters gave up the idea.
Sangamon County took over the partially graded right-of-way in 1922 and relocated sections of Old Jacksonville Road to it. Motorists who use the road today are traveling on portions of what was to be the Springfield & Jacksonville Electric Rapid Transit Co. railway line.
Oldest home
A 2016 search  identified the Walters Farmhouse on Old Salem Road, one-half mile north of Old Jacksonville Road in the Riddle Hill area, as the oldest house in Sangamon County.
The original log cabin built by James Walters in 1823 has since been added to and hidden by siding, but it remains part of a house now owned by the sons and daughters of Floyd (1915-93) and Winifred Barringer (1921-2008). Floyd Barringer, a neurosurgeon, also was a local historian who did much of the research into the home's background.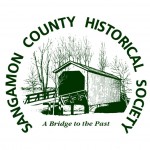 The 2016 search, sponsored by the Sangamon County Historic Preservation Commission, the Sangamon County Farm Bureau and Brandt Inc., specifically sought the oldest farmhouse, but the Walters building apparently also predates existing non-farm homes in Sangamon County.
Original content copyright Sangamon County Historical Society. You are free to republish this content as long as credit is given to the Society.