Springfield's first Chinese residents probably were three laundrymen – identified as As-Sing, Sam-Sing and Chun-Lung – hired by John McCreery, proprietor of the St. Nicholas Hotel, in January 1873.
The Illinois State Register reported on their arrival in an article that managed to combine the 19th century's casual racism (the story was headlined "The Heathen Chinee") with sincere interest in unfamiliar Chinese customs and respect for the group's work and abilities.
Mac had heard that no people were so able to get up fine linen and perform the general duties incident to a laundry, as these same heathen Chinese; and accordingly … (i)mmediately after breakfast, this morning (which, by the way was carried to their mouths by chop sticks, instead of barbarous knives, forks and spoons), they were introduced to the scene of their future labors.
Sam-Sing, who did the ironing, got the most attention from the Register writer.
He keeps a bowl of water before him on the ironing board; from this he fills his mouth with the liquid, and then squirts in a shower of finest spray the whole of this on the article to be ironed. Nothing so fine as this spray was ever seen in Springfield before. … It would go through a Whitney blanket or a beaver overcoat, and it is somewhat doubtful if India rubber garments could withstand its onslaught.

This is the basis of the success of these barbarous people in laundry work; they pay attention to the minutest details, and never get impatient.
McCreery's initiative was just the beginning. An entrepreneur whose name the Register reported as "Ah Sin, or some other oriental gentleman" (possibly the "As-Sing" originally hired by McCreery), opened a laundry on his own in April 1873.
Later the same year, Salm Lee was advertising his Chinese laundry at 204 W. Washington St. Prices were 12½ cents for shirts, 5 cents for handkerchiefs, collars, cuffs and socks; 10 cents each for nightshirts, undershirts and drawers; coats and pants 25 to 50 cents; and 25 cents to $3 for "ladies dresses."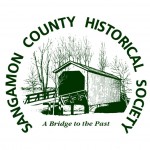 The business model continued to grow. By the time the 1875 city directory was published, Springfield's half-dozen laundry operations included three apparently operated by ethnic Chinese.
Original content copyright Sangamon County Historical Society. You are free to republish this content as long as credit is given to the Society.