Rechner's Bakery, founded by August Rechner early in the 20th century, was known for its buttercake. The business closed in the 1980s.
Bob Cavanagh recounted Rechner's history in an Illinois Times article published in 2004.
IT's Julianne Glatz explored the mysteries of Rechner (and other) buttercake in 2010. Recipelink.com also has what purports to be an easy variation of the Rechner family's buttercake recipe.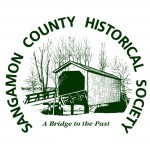 Original content copyright Sangamon County Historical Society. You are free to republish this content as long as credit is given to the Society. Learn how to support the Society.