The Springfield Brewing Co. operated at 11th and Madison streets from 1933 until late 1946, when it closed in the wake of wartime grain shortages, a federal tax lawsuit, and an embezzling scandal.
The grain shortage was unavoidable. The United States continued to ration barley and other grains after the war in order to avert famine while Europe rebuilt itself. If anything, Springfield Brewing took advantage of the nationwide beer shortage, advertising that it was restricting its beer deliveries to its home market of central Illinois. "Our home town comes first," Springfield Brewing ads said in April 1946.
The company, however, apparently could not survive the federal lawsuit, which sought $500,000 in back taxes, nor an estimated $300,000 drain on its finances that allegedly was due to years of embezzlement by vice-president Harry "H.D." Anderson (1895-1957).
Springfield Brewing Co. produced its first beer – under the brand name Archer – as purely a draft beer in October 1933. The founders were a group of local businessmen, but Sim Fernandes and A.N. Midden became the sole partners that November.
Fernandes and Midden sold the plant to Conrad Engelking (1895-1958) in April 1934. Nicholas Schlangen (1894-1964) bought out Engelking in October 1937 and controlled the company for the rest of its existence.
Under Engelking and Schlangen, Springfield Brewing Co. produced beers under dozens of brand names in markets around central Illinois. (Included was one at least slightly distasteful offering: Stadt Pep-tone tonic, which advertisements described as a "malt tonic beverage with a laxative propensity.")
Springfield Brewing Co.'s products, however, did have some drawbacks, according to an article on the company written by The State Journal-Register's Doug Pokorski in 1999.
For one thing, its beer reportedly didn't taste very good – certainly not up to the quality of Reisch's product, according to people who tasted both.

In addition, although Springfield Brewing would eventually sell a number of different brands of bottled beer, it apparently made only one kind. Different labels were applied to bottles containing an identical product to give the impression of a variety of products.
Gold Coast beer became the company's flagship product in the 1940s.
The brewery constructed three new buildings, including bottling machinery and a tasting room, in 1939. News stories said the $65,000 project would increase employment by 55 people.  When the work was finished, the company's property stretched along the entire south side of Madison Street between 10th and 11th Street. (The block now is the site of a Salvation Army facility.)
When exactly Springfield Brewing Co. shut down is unclear from news coverage. Springfield Brewing Co. was still advertising Gold Coast in local papers in mid-1946, but both news coverage and ads disappear from the Illinois State Journal that fall.
The Journal's only reference to the closing was in September 1948, when Nicholas Schlangen's 58-foot, $100,000 yacht sank after hitting rocks near Tybee Island, Ga. Schlangen, a New York actress who was his passenger, and two crew members survived the wreck after lashing themselves to the mast for 10 hours.
"Schlangen is president of the Springfield Brewing Company," the Journal reported. "Since the war the brewery has been inactive and the Schlangen family has spent most of the time in Florida."
Schlangen did return to Springfield in 1952 to testify in Anderson's trial for the alleged forgery of a single $675 company check. In testimony, Anderson admitted forging eight checks, but said he did so only on Schlangen's orders, the Journal reported.
 Anderson said he gave some of the money from the checks to Schlangen, and used the rest to buy black market products for beer production.

Anderson … said the brewery needed more materials to make more beer, and that essential grains as well as packaging materials were rationed, so that the brewery operators bought corn and other supplies wherever they could.

He said the brewery produced 81,000 barrels of beer in 1945-46.
Schlangen denied knowing anything about Anderson's check-writing activities, but a Sangamon County jury found Anderson not guilty on Sept. 18, 1952. Authorities later dismissed another 20 counts of forgery and embezzlement.
The federal tax lawsuit, which named Springfield Brewing, Nicholas Schlangen and his son Robert Schlangen as defendants, had been settled in August 1952. Terms were not disclosed.
However, Anderson still faced a civil suit to recover the allegedly embezzled funds; the Internal Revenue Service joined the case as well, seeking payment of back taxes.
With the threat of criminal prosecution removed, Anderson was forced to admit in 1957 that he had mixed Springfield Brewery's money with his own. At some point, a master in chancery reviewed the claim and found:
Anderson's own admissions were somewhat amazing, the keeping of as much as $5,000 or $6,000 of the Company's funds in his personal safety box at the bank, from $3,000 to $5,000 at a time of the Company's cash in his own home, $3,000 to $4,000 of the company's cash in his own pocket on a single trip. There were checks of the company irregularly deposited in Anderson 's account in an amount of $45,800.
Among other things, the civil complaint revealed that Anderson and his wife Margaret bought a house on Jackson Parkway in 1943 and paid off the entire $10,500 cost in eight months. At the time, however, Anderson's take-home pay was less than $40 a week, and Margaret didn't work.
From the evidence introduced, it is apparent that a portion of the house payments were directly traceable to the bank account in which company funds were commingled and that during the short period of the purchase, H. D. Anderson did not have access to any other funds than illegally obtained company funds sufficient to purchase the real estate.
H.D. Anderson died in March 1957, shortly after testifying in the civil suit, and Margaret committed suicide a couple of months later.
Although Springfield Brewing and the IRS won the case against their estates, neither got much money back. The defunct brewery was awarded a lien against the Jackson Parkway house totaling about $12,500, and the federal government received what was left of the Andersons' savings account, $620.48.
The Andersons' heirs hung onto $6,200 in cash found in a safe in the home – on the grounds no one could prove it was embezzled money – along with a few hundred dollars in other assets, plus a fur coat and a diamond ring.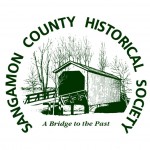 Original content copyright Sangamon County Historical Society. You are free to republish this content as long as credit is given to the Society. Learn how to support the Society.