"Battle royals" in Springfield were a springboard to fame for boxer Jack Johnson, who went on to become the first African-American heavyweight champion.
Johnson (1878-1946) was tutored in Springfield by Johnny Connors (1867-1966), a  boxer himself as well as a saloon-keeper, hotelier and sports promoter.
Johnson's sojourn in Springfield probably lasted no more than a few months in 1899, but it was long enough for Johnson to benefit from Connors' boxing instruction and his connections to other Midwestern promoters. The two became lifelong friends, and Johnson later returned to Springfield several times for exhibitions and benefits sponsored by Connors.
The story of how Johnson came to be in Springfield has been told in several versions. Some sources say Connors had heard of Johnson's prowess – Johnson had had several bouts in his hometown of Galveston, Texas – and recruited him to come to Springfield from either Galveston or New Orleans.
In another version, Johnson, fresh off a train and broke, turned up at Connors' saloon in the 400 block of East Jefferson Street, asked for a meal and ended up fighting in a battle royal that night.
A variation of that story has it that a local white boxer, Frank Fitzsimmons, saw Johnson and a "small but pugnatious (sic)" companion standing at Fourth and Jefferson streets after hopping off a freight train. Longtime Illinois State Journal sports editor Bob Drysdale repeated that account in 1943.
Connors was putting on a show that night, one with a battle royal as a feature. He needed talent. Frank Fitzsimmons spotted the pair and asked them if they'd be interested. A meal under their belts and they stepped into the ring to blast all opponents in short order. Then they put on a sham battle of their own that brought down the house.

The next step is easy to predict. Johnson went to work in Connors' saloon. Johnny, a fine boxer himself, took the awkward Texas colored youth under his wing. Then, when he was ready, (Connors) took him to Chicago where he started his trek to a world's championship.
Supporting the Fitzsimmons version is a contemporaneous Illinois State Register article about a battle royal Johnson won in April 1899. The event was one of a series of boxing exhibitions the Springfield Athletic Club (a Connors creation) put on at the Central Music Hall, on the northwest corner of Fourth and Jefferson streets, from about 1897 to 1901.
Battle royals were regular parts of the exhibitions. In a battle royal, as many as a dozen men – usually Black – would fight each other simultaneously, with the last man standing winning a cash prize.
"The opening entertainment of the show will be a battle royal in which a number of local negroes will participate," the Illinois State Register reported in an advance story about a November 1900 boxing show. "The battle royals given under the club's direction have always been enjoyed and to-night's battle will be as entertaining as those in the past."
One such melee opened the Athletic Club's fight program on April 19, 1899. The Illinois State Register's story the next day included an unusually detailed report on Johnson's victory.
The show was opened by a battle royal, which was won in a punch by a large negro who called himself Jack Johnson. There were five negroes in the ring when time was called, but when Johnson hit George Williams a blow that looked like a mule kicking, there were but two left, Johnson and his partner, a little fellow. Williams and the other two got out of the ring and had enough.

Johnson showed plainly that he is a boxer and had no business in such a place. Sam Pooler, manager of Eddie Santry (a white Chicago fighter – ed.), says he will make a match for him with some Chicago man. Johnson stated after the contests that he had been with Joe Walcott, the Barbadoes Demon, and Joe Choynski. He is a large, powerful fellow …
According to later accounts by both Johnson and Connors, Johnson received $5, plus the free meal, for participating in the battle royal and $5 more for winning.
Connors hired Johnson as a porter at the saloon and began managing his boxing career. A training center was set up near the Illinois State Fairgrounds, and Connors hired local fighter Joe Bonansinga as a sparring partner.
Connors and Johnson set up two more bouts over the next month, although both ended up being cancelled. The excuse for the first cancellation was a change in schedule, but the Register said the other fighter, Tommy "Sailor" Wilson, a heavyweight from Athens, was afraid of Johnson.
Arrangements had at first been made to have the two men meet in private for a purse which was guaranteed to them. Later an offer came for the men to go on for six rounds at the carnival to be given in Decatur (two weeks later) by a reputable club. The Decatur club offered them more money, and Johnson agreed to it. Wilson arrived in Springfield the day he was to meet Johnson in private and when told that the Decatur club wanted the match, he refused to accept the terms, saying he had prepared to go that day and no one had a right to postpone the match for him. … Then Johnson went to him and said: "I'll meet you this afternoon, since you are so anxious to fight, if I am fortunate enough to win. I'll give you half the money. If you win, you can have it all."

At this point Wilson showed a streak of yellow and refused to go on with the colored man, in spite of the fact that he weighed at least twenty-five pounds more.
Apparently as an alternative, Connors quickly arranged for Johnson to fight another black boxer, John "Klondike" Haines, in Chicago a couple of days later. Johnson lost that fight and returned to Springfield to train for the Decatur boxing "carnival," which was scheduled for May 16, 1899. However, that bout also was cancelled, the Register reported.
Johnson then disappears from local newspaper records until Jan. 20, 1900, when the Register reported Johnson "is now in Chicago."
White boxers largely refused to fight Johnson for the next several years, but his growing reputation finally led heavyweight champion Tommy Burns to agree to a championship bout in Australia in 1908. Johnson won the fight and – despite legal problems related to his relationships with white women – held the title until being defeated by Jess Willard in Havana, Cuba, in April 1915.
Among Johnson's later appearances in Springfield were two in 1925 – one a benefit for victims of the Tri-State Tornadoes of March 18, 1925, which badly damaged areas of southern Illinois, and the other a Labor Day boxing exhibition at the state fairgrounds. His last appearance in Springfield took place in 1942, when he refereed a wrestling match at the Elks Club, according to a story Drysdale wrote the day after Johnson's death on June 10, 1946.
"He was in great shape right up to the end," Connors told Drysdale. "He was the best. He could have whipped Joe Louis tomorrow."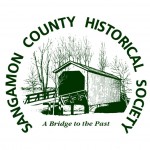 Original content copyright Sangamon County Historical Society. You are free to republish this content as long as credit is given to the Society. Learn how to support the Society.