Health officials closed churches, schools and theaters, barred street gatherings and set up a special hospital at the Illinois State Fairgrounds, but the influenza epidemic of 1918 nonetheless killed more than 500 county residents.
Second and third waves of flu appeared in the area in 1919 and 1920. Although those waves were weaker, dozens more people died.
As the first epidemic hit, the Illinois State Register announced the closings on its Oct. 16, 1918, front page.
The lid went on Springfield with a bang yesterday when the health authorities closed all the schools and all the theatres and gave notice that they would remain closed until further orders. …

(Students) who were getting ready to hail the order with glad acclaim had their hopes sadly dashed when the teachers explained the full meaning of the order. Not only were they to go home, but they were to stay there under penalty of being arrested if found outside their own door yards.

The moving picture houses received their orders to close at noon and immediately closed their ticket windows. … The order applies to all places of amusement and places of assemblage, including lodge rooms, where people gather in numbers, and so stringent is to be the enforcement of it that people are not to be permitted to congregate in the streets.
With both local hospitals full of influenza patients, officials quickly prepared a 100-bed emergency hospital in the Woman's Building at the Illinois State Fairgrounds and put out urgent calls for volunteer physicians, nurses and cooks. Cases continued to mount; 125 new victims were reported Oct. 24, the Illinois State Journal said.
The city department of health was notified of an outbreak of influenza at Concordia college. Twenty-four students, a number of whom are suffering from the epidemic, are being cared for in the college hospital. Two are believed to be in a serious condition and have been removed to Springfield hospital.

One health inspector visited a home yesterday in which ten members of the family were suffering from influenza, and he discovered a total of thirty-two cases in ten homes which he visited.

Mrs. O.F. Davenport, wife of City Clerk Davenport and their three children are ill from the epidemic at their home in Noble avenue. Their oldest child is reported to be in a serious condition from pneumonia.
Newspaper updates on the flu situation often included a mournful list of the latest fatalities, like this one from the Oct. 21 Journal.
The deaths from pneumonia following influenza in the city yesterday are:
Miss Clara Louise Kramp, 18 years old, 1631 East Cook street.
Mrs. Lillian Ambrose, wife of Thomas Ambrose, 1015 East Reservoir street.
Michael Burnstine, died at St. John's hospital.
Frank Repasky, 1346 West Jefferson street.
Anton Zapusek, 43 years old, died at St. John's Hospital.
Theaters reopened Nov. 8 and schools Nov. 11, and the fairgrounds flu hospital closed Nov. 14. But the crisis continued, and in December, officials had to open a new, 32-bed emergency hospital in what was known as the Littler Home at Rutledge and Miller streets. Authorities finally closed the second hospital in mid-January, when the number of patients had dwindled to eight.
In a Jan. 1 newspaper report, Springfield health superintendent Dr. A.E. Campbell said the flu's toll would have been higher if not for other steps taken by city and county officials.
On account of the epidemic, we instituted "sick calls" at all factories, shops and large stores in the city, thus isolating the sick from the other workers; placarded every business house in the city; placed a police officer at the door of every moving picture theatre. These simple, but seemingly drastic measures had the effect of isolating the sick from the well and prevented the closing of business houses which always proves disastrous financially.
Another flu scare took place in January and February of 1920. The number of reported cases – 121 in Springfield as of Feb. 10 – fell far short of the earlier eruptions, but Campbell still felt the need to order that all funerals be held privately.
"All crowding at theaters, moving picture shows and other places of amusement is strictly prohibited," his order added.
In March, state statistics showed that, during the 1920 recurrence, Springfield had had the highest flu death rate in Illinois. However, city physicians told the Illinois State Register the data was "practically worthless," because they had reported only the most severe flu cases to authorities. (The number of deaths wasn't reported in the article.)
Military influenza deaths
Local death reports don't tell the whole story. At least 32 of the 133 county residents who died in World War I military service are identified in the Honor Book of Sangamon County, 1917-1919, as victims of influenza. The actual number is certainly higher, since the Honor Book didn't specify the illnesses that killed many other service members.
One notable flu death was that of Sgt. James Rollman (1892-1918) of Springfield, who was an orderly with Sangamon County-based Unit W of the U.S. Medical Corps. Nurses from the unit told the Illinois State Journal Rollman was a hero.
(He) contracted influenza from which pneumonia developed, from the boys who were taken ill in the ships on the trip over, in the worst of the epidemic.

"If there ever was a hero," Miss (Sarah) Wray said last night, talking of Sgt. Rollman, "Jimmy was one.

"He would get down to the lowest decks in the transports, and carry the sick and dead boys up. He contracted the flu from one of them, and was taken sick one night when I was in charge. I noticed how ill he was and told him to go to bed. He did, and he never got up again."
Unit W
The only woman listed in the Honor Book as a WWI fatality was a Unit W nurse, Geneva Casstevens (1891-1918). She grew up in Beecher City, but transferred her nursing registration to Springfield before joining the unit. She died of flu on Oct. 14, 1918, in Liverpool, England.
Unit W, which included 12 area physicians, 50 orderlies and 21 nurses, was formed and commanded by Major (later Lt. Col.) D.M. Ottis, a surgeon associated with St. John's Hospital. Ottis formed the unit in the fall of 1917 and raised $10,000 for equipment and expenses. The unit was abruptly called up in January 1918 and sailed for Europe on May 1, 1918. It was deployed to a military hospital at Knotty Ash, near Liverpool.
The unit reported one other death — that of Capt. Francis Fletcher (1879-1918), a physician who practiced in Auburn and Chatham, from a perforated ulcer.
"No other losses were suffered by the unit, although many of them were severely ill with influenza and from the strain of the work which fell upon them during the raging epidemic of this malady," the Journal reported in May 1919.
Unit W cared for a total of 14,000 patients at Knotty Ash, first under tents and later in a hastily built hospital designed by Ottis and his staff. Capt. Robert Smith told a Journal reporter when the unit returned:
Our patients were American and Canadian soldiers. Practically all of them were medical cases until after the signing of the armistice when thousands of wound cases passed through our hands.

Practically all of those who lived through the first 48 hours after having been wounded or having undergone surgical operations, lived through their treatment when they reached our base hospital and were sent home as convalescents. The greatest number of patients that we cared for at one time was 1,250. This was during the influenza epidemic.
Most Unit W members returned to Springfield in May 1919, although six nurses were detailed at the last minute to Russia, where Allied units briefly intervened in the Russian Revolution. All but one of the group were from Sangamon County. They were: Nellie Alvey and Bertha Weinert of Buffalo, Annie Ferguson of Springfield, Ethel Foster of Chatham, Mary Talbott of Glenarm and Mary Korloski of Decatur. After working in Murmansk and Archangel, the last nurses returned to the U.S. in July 1919.
This entry has been edited to correct the birth year of Geneva Casstevens. Thanks to Karen Forsberg (see comments) for the correction.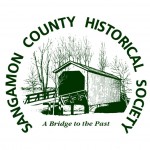 Original content copyright Sangamon County Historical Society. You are free to republish this content as long as credit is given to the Society.