This entry has been retitled and greatly expanded.
Joe Yucas (1874-1926) was a Springfield bar owner and political operative who the Illinois State Register once called "the King of the Lithuanians."
According to his obituary, Yucas immigrated to the U.S. from Lithuania in 1899 and was naturalized in 1904. He operated saloons and then a so-called "soft-drink parlor" near Eighth and Washington streets from about 1910 until the early 1920s.
Although Yucas apparently never held any official position, stories in both the Register (which supported Democrats) and the Illinois State Journal (Springfield's Republican newspaper) said he was an influential figure in the area's Lithuanian community. The Register's coverage of Yucas, however, took a much more critical tone.
Its most detailed story followed police raids that took place May 7, 1921, on five soft-drink parlors where police said alcohol was being sold. (National prohibition was in effect at the time, but soft-drink parlors had become a phenomenon in Springfield two years earlier, in 1917, when local voters approved a city ban on liquor sales.)
The Register's front-page story was headlined "Joe Yucas Often Arrested But Keeps Going; a Political Power".
Interest in the federal booze raid of Saturday centers around Joe Yucas, known as the "King of the Lithuanians" and a political power in the "old republican organization." Joe has often been in trouble but bobs right up again and while police attention has often been called to his place at 730 East Washington street, he keeps right on going.
The story went on to chronicle some of Yucas' legal problems, including an earlier order that he divest himself of his soft-drink establishment because liquor had been sold there. Following that charge, the paper said, Yucas made his bartender, Joe Simanella, the official owner, but actually kept control himself.
The Register also took note of a 1919 brawl in the parlor during which Simanella shot to death two Lithuanian brothers, George and Joseph Poskevicius. Yucas reportedly instigated the killings by challenging George Poskevicius to a wrestling match.
The 1921 raid may have been the last straw for Yucas on Eighth Street, as Mayor Charles Baumann revoked the parlor's soft-drink sales license after the raid. (The 1922 Springfield city directory still lists Yucas' parlor at 730 E. Washington St., but the directory may have been out of date before it was printed.)
Yucas then moved to 1800½ S. 11th St., above a meat market and soft drink parlor operated by Emma Gedman (ca. 1878-1939), the widow of Charles Gedman (ca. 1870-1920). Charles Gedman owned a saloon at 808 E. Washington St. from about 1908 to 1916, but — perhaps prompted by Springfield's ban on liquor sales — the Gedmans opened their 11th Street market in 1917. Yucas lived at the 11th Street address from at least 1921 until his death five years later.
The Journal's 1926 obituary said Yucas "in recent years was a leader among his countrymen in this section of the state. He was a member … of Kestutis lodge of Virden. He was also prominent in the Lithuanian Sons of America and the St. Joseph's society of St. Vincent De Paul's church."
The Gedmans, like Yucas, were Lithuanian immigrants. The relationships among them are unclear 90 years after Yucas' death, but they obviously were close.
All three are buried in the same plot at Oak Ridge Cemetery, in front of an imposing monument that – unusually for Springfield – includes small ceramic photographs of both Yucas and Charles Gedman (spelled "Gedmins" on the monument and on Charles and Emma's individual headstones). The photos are not labeled, but their placement and the photo above of C.K. Gedman's saloon indicate the photograph on the south half of the monument (the left half when viewed from the front – east – side) is Yucas. The photo on the north half appears to be Gedman/Gedmins. There is no photo of Emma.
Money for the substantial cemetery display apparently came from Yucas. On his deathbed, Yucas dictated a will that left the bulk of his estate – $7,000 plus interest from a mortgage owed to him – to Emma Gedman. But he also added a proviso:
Sixth: I request that a monument be erected at my grave and a sum not to exceed $2000 be paid for the same and that Emma Gedman purchase the same out of money given to her under the will.
Research note: According to the 1906 city directory, a "Joe Yurus" was working then as a bartender at a saloon run by Charles Gent at 707 E. Washington St. The 1907 city directory lists a "Yuris and Kalosky" saloon at 112 S. Seventh St, and the 1910 directory shows "Joe Yucus" as the proprietor of a bar at 801 E. Washington St. In 1912, the partnership of Joe Yucus and Joseph Mekanas had a saloon at 800 E. Washington St.
Given the frequent inconsistencies in early 20th-century spelling, these listings may all have been the man later known as Joe Yucas (in fact, the "Yucus" in Yucus and Mekanas almost certainly was). They also demonstrate one of the obstacles involved in researching the life of Joe Yucas.
Springfield's complicated Lithuanian community is another problem. There appears to have been at least one other immigrant named Joe or Joseph Yucas, a coal miner who lived on North 15th Street. His son also was Joseph Yucas; he may later have operated the Snow White Laundry at 1705 Peoria Road. And findagrave.com identifies a Joe Yucus as a 1928 burial in Calvary Cemetery. No other information is available about him.
Both the newspapers and directories used both Yucas and Yucus at various times when clearly referring to the Washington Street tavern owner Joe Yucas; his last name also was sometimes spelled Yukas.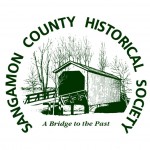 Original content copyright Sangamon County Historical Society. You are free to republish this content as long as credit is given to the Society.