At least 30 covered bridge sites have been identified in Sangamon County, more than anywhere else in Illinois, according to an article posted on a family history web site, Genealogy Trails.
The writer – Genealogy Trails contributors appear to all be volunteers – is not identified, and the source of his/her information also is not cited.
Moreover, the chronology in the post is confusing, suggesting much of the material may have originated with an old county history and then been updated. (Also confusing is the fact that the entry begins by mentioning four bridges in Christian County.)
Nonetheless, a check of newspaper articles about several of the bridges mentioned in the entry indicates its facts are largely correct. The entry also includes photos of a number of the old bridges.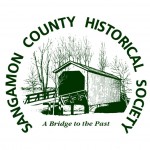 Readers may find Genealogy Trails' information useful, but be aware that SangamonLink.org cannot vouch for the article's full reliability. For more information, see Spring Creek Covered Bridge fire and Sugar Creek Covered Bridge.