Construction contractor Lee Muller (1910-73) built the stone buildings that line the 700 and 800 blocks of West Lenox Avenue. The six buildings, all faced with Bedford stone, contain more than 30 rental units.
The original showcase of the complex was Muller's own home at 2601 S. Glenwood Ave., which once featured an indoor swimming pool, a giant lily pond and a sycamore tree that grew up through the house.
"It wasn't planned exactly," State Journal-Register reporter Fran Bernard reported in a Jan. 5, 1975 feature story. "Like Topsy, it just growed."
Muller, born in Springfield, became a mechanic and service manager in Jacksonville and Springfield. In 1938, he began building houses in his spare time; he went into construction full-time in 1946.
"He specializes in unusual and custom built houses," reported the Illinois State Journal's Beulah Gordon, who wrote the first extensive story about Muller's unique home in 1954, three years after Muller built it. (He first demolished a five-room stone home he had built on the site in 1940.)
Gordon's article emphasized some of the then-unusual features of the home.
The entire house is air-conditioned and has a custom high fidelity Stromberg-Carlston (sic) sound system, which was the first of its kind to be installed in a Springfield home and the second in Illinois. On the grills in the ceilings of each room are the initials, "L.E.B.," of the combined first names of Muller, his wife (Eula) and daughter (Betty).
Gordon's story doesn't mention the sycamore, suggesting it was enclosed in a 1962 expansion project. But it does note that the home in 1954 included two small conservatories. There,
Mr. Muller engages in his hobby of raising tropical plants, which include banana trees, split leaf philodendrons, date palms and blood red oranges. He plans to replace these with a two story glass conservatory. …

West of the house … is a 60 by 30 lily pool, where he grows tropical lilies which have leaves up to four feet in diameter. He got the start of the lilies from Shaw's garden in St. Louis and keeps the bulbs during the winter in his greenhouse.
Muller's approach to furnishings also was idiosyncratic. The home boasted a crystal chandelier from Belgium, "twin of one at the White House," Bernard wrote, and a grandfather clock Muller had long coveted.
For many years, it was in the Leland Hotel, until one day Jim Bolinger said to Muller, "If you want it, just get it out of here," and Muller said, "I will."

It took a lot of doing to get the clock working – "Leo Shaughnessy used to come about every week with his little black bag, just like a doctor visiting a patient," Betty remembers, "and as soon as he would leave, it would stop again … but he finally got it to work."
Muller continued to add on to and remodel the house nearly until his death. When Bernard wrote her article in 1975 (when Betty, her husband, Gene Gerber, and their family lived in the home), she described it as a "labyrinth, a complete puzzle to guests who try to figure out where they are as they go from one area to another."
The Gerber family moved out of the house in the 1980s, and the former Muller home became another rental unit. The area where Lee Muller once had his lily pond is a parking lot for the complex.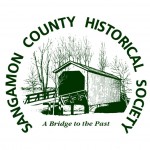 Original content copyright Sangamon County Historical Society. You are free to republish this content as long as credit is given to the Society.