Two boyhood friends turned radio pioneers brought Springfield its first permanent radio station in 1926.
That station, whose original call letters were WCBS, broadcast its first program, a test featuring Alfred Blankschen, organist at Springfield's Lyric Theater, on Dec. 10, 1926. Blankschen's performance of the musical score for the two silent films presented at the Lyric on Dec. 10 – "There You Are" with Conrad Nagel and Charlie Chaplin's "A Dog's Life" – was a success.
The next week, WCBS launched a six-nights-a-week programming schedule – mainly filled by Bendschen at the Lyric, by bands like the Springfield Serenaders and Keeley's Eight Aces performing in the station's studio at the St. Nicholas Hotel, and the occasional Sunday church service.
The station broadcast on a wavelength of 242 meters. Co-owners were Harold L. Dewing (1905-1961), who operated the equipment, and announcer Charles Messter (1875-1964).
Dewing and Messter (whose last name was often misspelled "Mester" in Springfield newspaper coverage) had grown up together in Providence, R.I., and had operated separate portable radio stations before setting up shop in Springfield. (The call letters for Messter's original station had been WCBR, while Dewing's signal was labeled WCBS. The call letters meant nothing, although Messter apparently told some reporters later that WCBS stood for "Western Central Broadcasting Station.") Portable stations were low-power outfits that could be hauled from town to town and set up for special events.
Dewing first brought his WCBS to Springfield temporarily for a radio exposition in 1926. Later that year, with portable stations gradually being squeezed out by the growth of local broadcasting, he decided to locate permanently in Springfield, and Messter soon moved here as well. (See more about the early careers of Dewing and Messter in Donna Halper's interesting article "When radio stations were portable.")
Springfield had had a portable radio experience a year earlier. WBBZ, another portable station, had set up in December 1925 at the Abraham Lincoln Hotel, Fifth Street and Capitol Avenue, as part of "the million-dollar hostelry's" grand opening. WBBZ broadcast performances by the hotel band, the Schuster Sisters California Orchestra, and others for about five weeks.
WBBZ had demonstrated that a market existed for local radio, but, as a portable, its signal was relatively weak. WCBS's signal, on the other hand, was far more powerful. That caused a problem with some local radio listeners, who had become accustomed to pulling in other powerful signals from across the country.
The Illinois State Journal's list of radio programs for May 4, 1926, for instance, suggested the Springfield radio audience could listen to more than 20 stations between New York City and Los Angeles. (Program choices were diverse. Among programs listed in the Journal's "Today's Best Features" list that day was one from WBZ in Boston: "Polish harp music.")
WCBS's signal, however – given 1926 radio technology and lack of government regulation – was so strong that it blotted out those distant stations, at least for people with cheaper radio equipment. A Journal letter writer who signed himself "A Radio Fan" sounded the alarm on Dec. 19.
Many of us have made friends with the Cliquot Eskimos, the Ipana Troubadours, the Zippers etc., etc. If when we called on one, we didn't like his behavior we could move on to the next of our friends and enjoy his company.

Well, we were all "sitting pretty" … when all of a sudden, Station WCBS dropped like a bomb into our midst. …

No matter what's on the air, we are forced to listen to WCBS about three hours out of four every evening. … I think WCBS is a nuisance and I personally wish it would go south with the birdies.
WCBS did not go south (Donna Halper calls it "a rare example of a station that made the transition from portable to permanent station"), although, over the years, it did change both its position on the dial and, eventually, its call letters.
Rival station WTAX moved from Streator to Springfield in 1930, over the objections of Dewing and Messter, and federal officials required both WTAX and WCBS to share the same radio position – 1210 kilocycles. Under that clumsy arrangement, each station had specific times when it would broadcast. WTAX programming aired starting at 8 a.m., WCBS took over the wavelength from about 11 a.m. to 3 p.m., and the bulk of evening programming originated with WTAX.
WCBS got its own frequency – 1420 kilocycles – in 1935, and in 1940, both WCBS and WTAX moved permanently to new dial positions (1450 for WCBS and 1240 for WTAX) following ratification of a radio wavelength treaty between the U.S. and Mexico.
The station's call letters changed to WCVS on Sept. 8, 1946, allowing WCBS to become the label for the Columbia Broadcasting System's flagship station in New York City. The switch was announced in the Illinois State Journal by WCVS continuity director John W. Midgely. (At the time, top officials of the Journal's owner, the Copley newspaper chain – Col. Ira Copley and CEO A.W. Shipton – shared ownership of the radio station with Dewing and Leslie Pefferle, who had bought out Messter a decade earlier.) Midgely predicted a rosy future for the station.
With the changeover … the station embarks upon a new era of planned programing and production. In addition to enjoying the distinction as Springfield's dominant radio station, WCVS has also the honor of being the pioneer station in this city in FM (frequency modulation) broadcasting. The F.C.C. has recently granted the station permission to construct a new AM-FM transmitter in the 3300 block South Fourth street. Construction of the new transmitter and a 417 foot radio tower will commence in the near future.
In 2015, the station was owned by Neuhoff Media, but the WCVS call letters now belonged to an FM classic-rock station at 96.7-FM. WFMB-AM, a sports-talk outlet, held WCVS-AM's old 1450 dial position.  The Neuhoff stations continued to operate from the South Fourth Street facility on which construction began in 1946.
Hat tip: To Joe Armstrong and Mitch Hopper of the Sangamon Valley Radio Club, whose dual presentation to the Sangamon County Historical Society in September 2015 was a great help to researching this topic.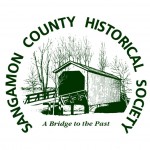 Original content copyright Sangamon County Historical Society. You are free to republish this content as long as credit is given to the Society.