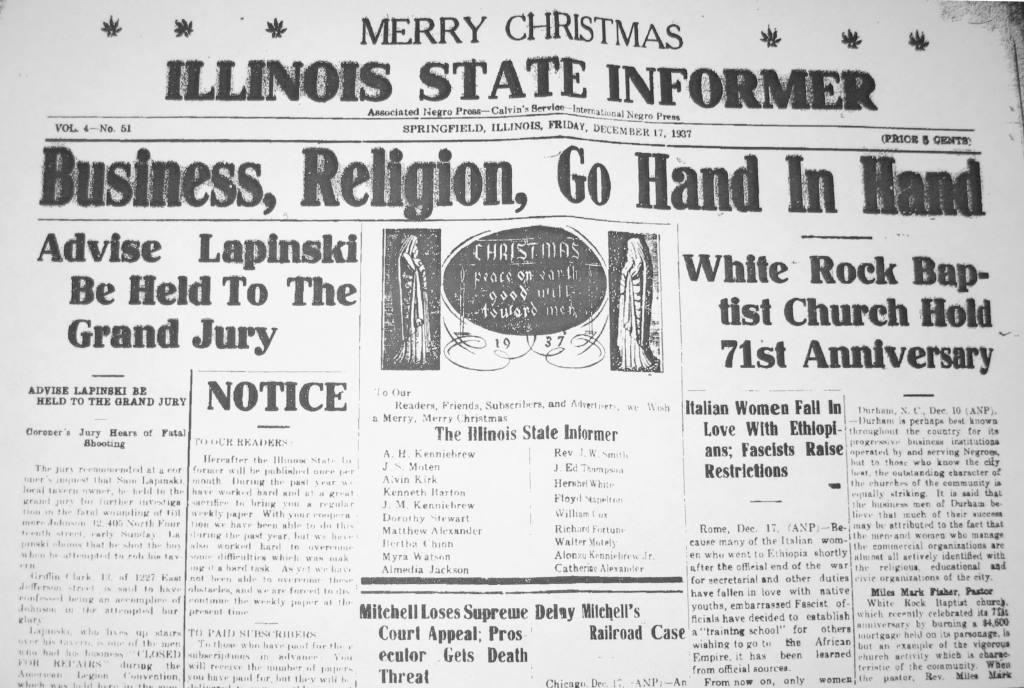 The Illinois State Informer was a weekly newspaper founded by Dr. Alonzo Kenniebrew, a nationally prominent black physician, in the mid-1930s in Springfield.
Kenniebrew (1875-1943), a graduate of Tuskegee Institute and close friend of Tuskegee founder Booker T. Washington, had moved to Springfield in 1933 from Evanston. There, in addition to his medical practice, Kenniebrew had operated a similar publication, the Evanston Informer.
Only one complete copy of the Illinois State Informer, the edition of Dec. 17, 1937, is known to exist. It can be seen on microfilm at the Abraham Lincoln Presidential Library, which also holds a partial copy of the Nov. 1, 1938 paper.
Based on the 1937 copy, the Informer appears to have been newsy and attractive. Its top local story involved the white owner of an East Washington Street tavern who had shot a 12-year-old African-American boy who allegedly tried to burglarize the business.
Inside, the Informer's editorial page spelled out its platform
1. Justice and fair-play in all dealings
2. Jobs according to voting strength
3. Teachers in our public schools
4. To encourage Negro Business and urge Racial cooperation
5. Citizens of this country first
6. Federal Legislation to abolish lynching
Kenniebrew apparently wrote a regular column, "Your Health;" in the December 1937 newspaper, he warned against the hazards to a person's lungs of dust. Sweeping the floor with a broom merely stirred up dust, he said, urging housekeepers to use vacuum cleaners instead.
"Failing in this, wet tea leaves should be sprinkled on floors before sweeping and dusters should be dampened," he warned.
The editorial page also listed the Informer's management: Kenniebrew was the editor; Alvin Kirk and Jonas Moten were associate editors (Moten worked in Quincy, where some of the Informer's content originated and where, apparently, the newspaper also was sold); Jessie Mae Kinniebrew (later Finley), Alonzo Kinniebrew's wife, was advertising manager; and Kenneth Barton was secretary-treasurer. A front-page Christmas greeting suggests the paper had a total of 19 staff members.
It's not clear how long the Informer operated.
The presidential library's files suggest 1934 as a possible founding date, but that's called into question by a "Notice" published on the front page of the Dec. 17, 1937 edition.
The notice informed readers that the Informer was being converted from a weekly to a monthly paper, but suggests the newspaper was only about a year old then:
During the past year we have worked hard and at a great sacrifice to bring you a regular weekly paper. With your cooperation we have been able to do this during the past year, but we have also worked hard to overcome some difficulties which was (sic) making it a hard task. As yet we have not been able to overcome these obstacles, and we are forced to discontinue the weekly paper at the present time.
Subscriptions would be extended so subscribers would receive the number of issues they had paid for, the note said.
Whether the paper continued to be published beyond the Nov. 1, 1938 edition on file at the presidential library is unknown. However, ill health forced Kenniebrew to quit practicing medicine in 1940, and it's unlikely that the paper — even if it was still in business then — would have survived past his retirement.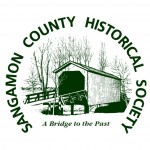 Original content copyright Sangamon County Historical Society. You are free to republish this content as long as credit is given to the Society.