John Tuxhorn Sr. (1885-1953) opened his Tuxhorn Garage at 1158 N. Sixth St. in 1919, but it wasn't until the early 1940s that John Jr. added towing service – and, a decade later, began painting his tow trucks bright pink.
The Tuxhorn operation was a full-service auto repair service at first, but gradually converted to 24-hour towing. (The company's first tow truck was a converted 1932 Cadillac sedan.) The last year the garage advertised auto repairs in the Springfield city directory was 1967.
Meanwhile, John Jr.  (1918-2000) had decided he wanted to set his tow trucks apart from those of competitors.
"We had white, and they copied that," Tuxhorn told State Journal-Register reporter Mike Murphy in 1984. "We went to cream and they copied that, too. So the next time I painted them I wanted orchid, but Gerber's Cleaners had orchid trucks, plus it had to be mixed special.
"So we got pink … and now they call it 'Tuxhorn pink.'"
Most Tuxhorn trucks also are bear names, although the approach changed over the years. Tuxhorn's earliest tow trucks were named after John Jr.'s daughters, "but we ran out of girls," Tuxhorn told Murphy back in 1984. Today, the trucks tend to be named in the style of comic-book superheroes, often complete with full-color cartoons of the characters.
Tuxhorn remained at its original North Sixth Street site in 2015, and its yellow-pages advertisements still urged prospective tow customers to "Think Pink."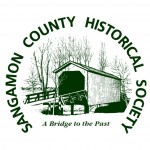 Original content copyright Sangamon County Historical Society. You are free to republish this content as long as credit is given to the Society.